Discover more from Recommentunde
Baratunde offers things to help you process reality and give you the boost to keep shaping it for the better
Over 12,000 subscribers
Recommentunde - Clarence Thomas, Radically/Diabolically Black - 10 Nov 2019



it's the latest edition of
The Recommentunde Newsletter
For the week that began November 10 2019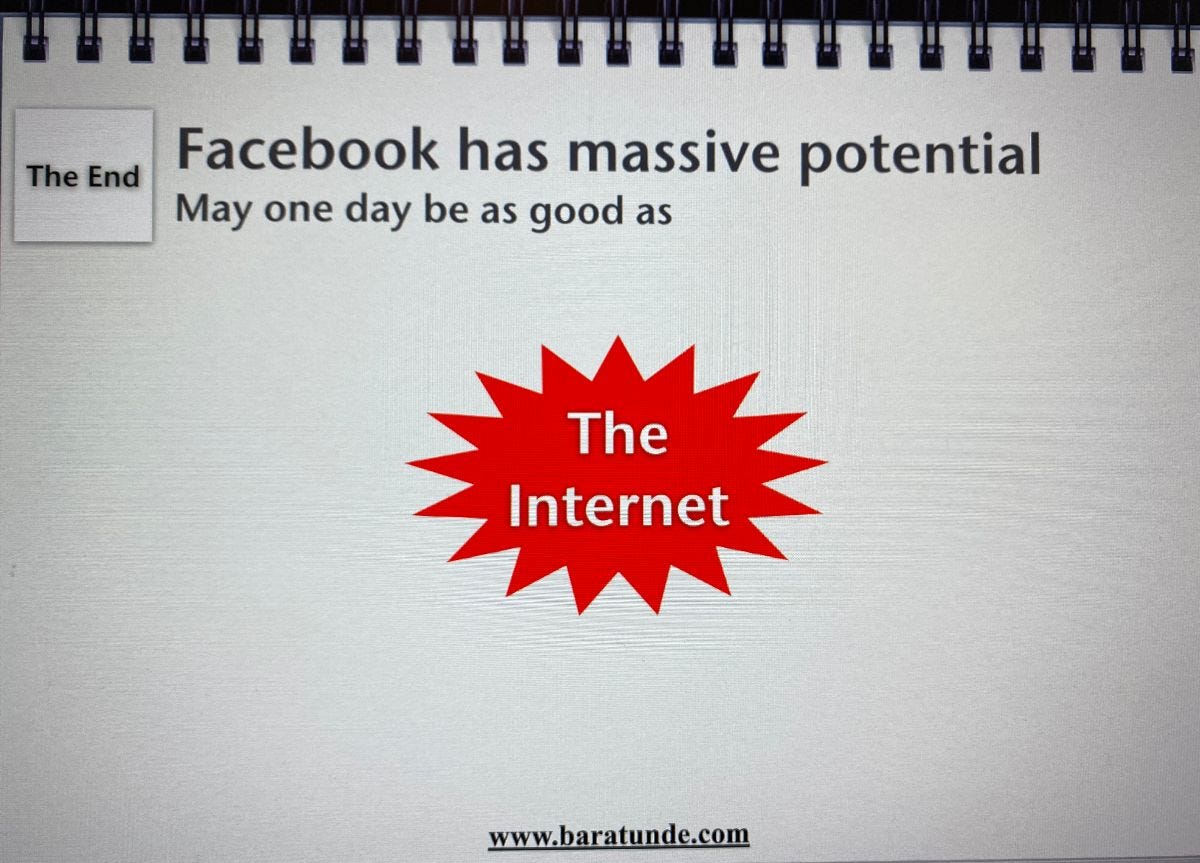 This week's photo is the last page of a slide deck I presented in 2007 titled "I'm a Facebook Curmudgeon."
Greetings.
At this very moment, there's a Home is Here Rally at Supreme Court standing up for DACA recipients as the court considers this president's racist policies. Tune in, and finish reading this great newsletter after.
We haven't heard much about housing in this campaign, but I've been obsessed with the lack of affordable housing / gentrification for some time. It's why I think There Goes The Neighborhood is one of the best podcasts ever, and why you should read 'Go back to California': Wave of newcomers fuels backlash in Boise | Los Angeles Times. From the piece:
"It's really, really hard to swallow when somebody sells their house in California for $700,000, comes here, buys any house they want in cash and still has money in the bank. Their kids get to go to college. They drive nice cars. And they get to enjoy everything we built over the years. We don't get to enjoy it, because we're working 40 hours a week and doing craft shows and doing yard sales."

That could be a black family in Bed-Stuy Brooklyn or Mexican-American family in Boyle Heights Los Angeles, but it's a white dude in Boise because money is a steamroller that will destroy democracy if not reigned in.
You may have listened to the New York Times podcast The Daily try to answer the question, Who's Actually Electable in 2020?, or maybe you read the words on your screen. The point was easy to digest: one year from the 2020 election, Biden is the most electable, then Sanders, then Warren, and if democrats don't want to screw this up they should nominate the man who can't complete a thought out loud. But, here's the thing. history tells us one year ahead of a presidential election, it's anybody's game. Basically, nobody knows shit, so work hard for the outcome you want. Stop trying to predict what will happen, and instead make something happen.


Here are some Democratic campaign ads!
First up, Jaime Harrison is running for Senate in South Carolina. He wants to send Lindsey Graham home, which sounds like a great idea. He's got one of the most creative ads of the season so far. Meanwhile, first term Democratic Representative Elaine Luria drops the mic forward and backward in her ad about the president's impeachable behavior. You'll get chills. Chills guaranteed. If you don't get chills, I owe you some chills.

And now, time for some blackness.
My friend Farah Stockman has an excellent piece in The NY Times about a movement that claims to support the American descendants of slavery but is being promoted by conservatives and attacked on the left. It's called ADOS, and it's worth keeping your eyes out for the ADOS hashtag because odds are it's being used to promote anti-immigrant and pro-Trump rhetoric. I'll predict now that lots of social media bots will push this narrative over the next year to try to depress black voter turnout.
Here's a pro-tip. Anyone who publicly says anything advocating a second term for the current U.S. president is not to be trusted, whether they are trying to hide behind pro-blackness or just hate paying taxes (I see you, Billionaire-Americans).
ENDORSEMENTS:

"I was utterly moved by this performance when I saw it live in the room and remain so from my computer screen. Dr. Amma shows us how we can unlock history and bring the past to life. At Buffalo feels like it has the potential to be the next Hamilton, or maybe they will say about Hamilton, 'It was almost as good as At Buffalo.'"
- Baratunde on A historical musical that examines black identity in the 1901 World's Fair | TED Talk

"Takes us on a path that connects the Middle Ages, Edgar Allen Poe, the Trans-Atlantic slave trade, Afropunk, Prince, Black Lives Matter, and Hot Topic. It's an incredible journey…"
- Baratunde on Darkly: Black History and America's Gothic Soul | IndieBound.org. Check out events this month in NYC, Chicago, and DC.
Seems like Clarence Thomas may be one of the most radically black people in America. My jaw dropped listening to this podcast segment with author Corey Rubin because Thomas now makes a terrifying amount of sense. He's worse than you think. The Supreme Court Justice With The Most To Say | On the Media
For the opposite of blackness, read How the Man Behind 'The Crown' Made the Monarchy Relevant Again | The New York Times. I just love The Crown. Can't wait for season three. Yeah, I said it!
Tech Time!
"Realistically, advertising does something, but only a small something – and at any rate it does far less than most advertisers believe." Read more in this very long read that tries to blow up the myth of effective online advertising: The new dot com bubble is here: it's called online advertising | The Correspondent
While I'm making you mad, read about how a Vice reporter Accidentally Uncovered a Nationwide Scam Run by Fake Hosts on Airbnb | VICE
Or how HireVue's AI face-scanning algorithm increasingly decides whether you deserve the job | The Washington Post
And pointing us in the right direction, Elizabeth Warren's Plan to Smash Facebook Could Work—and Boy, Do We Need It To | The Daily Beast

✊🏾

Peace and Love.