Discover more from Recommentunde
Baratunde offers things to help you process reality and give you the boost to keep shaping it for the better
Over 12,000 subscribers
Recommentunde - JUST MERCY 🎥 - 17 Nov 2019



it's the latest edition of
The Recommentunde Newsletter
For the week that began November 17 2019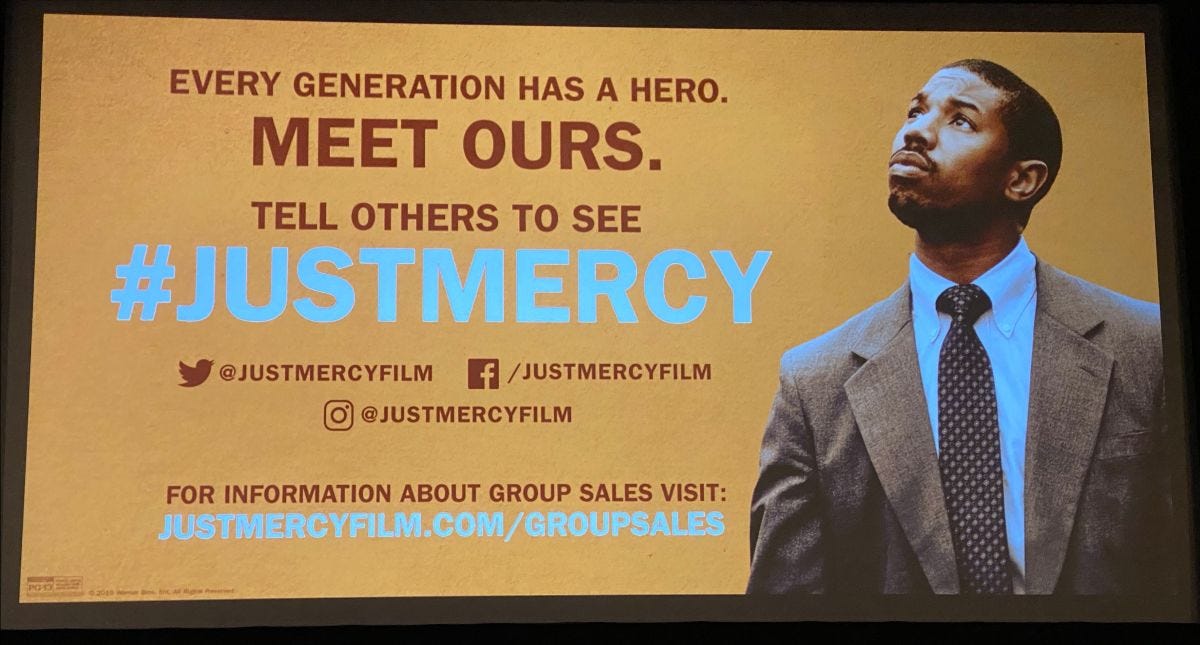 This week's photo is one I shot during an advanced screening of the film, Just Mercy, this past Saturday.
Greetings.
"I'm. Tired."
These words filled a slide in my TED Talk, toward the end, after I'd finished re-living the trauma of police killing black people, white people calling the cops on black people, white people lynching black people. It was a lot to carry, and the fatigue I revealed was real. So much of my work has to do with trying to educate, inspire, explain, and nudge the world forward on hard matters like race, but there's a cost. I get angry and overwhelmed and sad. This summer I shared Casey Gerald's piece The Black Art of Escape which has become like a well-worn Bible for my soul.
I bring this up because I saw the film version of Bryan Stevenson's book, Just Mercy this past weekend. It opens in select theaters December 25 and everywhere on January 10. I'll have more to say about the movie closer to release, but for now I offer two directives. See the film. It's one of the most important stories to be told, and the work it highlights deserves to be world-famous and supported at Kardashian levels. Second, protect your heart. We are all exposed to so much negativity that it takes a toll. On the other side of the hard work is often relief but getting there may require some breaks to breath, smile, sleep, cook, play and otherwise gratefully experience this miraculous thing called life.
This story brought me such joy, I have to open with it. Everything he says is quotable. Werner Herzog on 'The Mandlorian' and Why He Hasn't Seen 'Star Wars' | Variety

We need this story, and the headline says it all: This Tom Hanks Story Will Help You Feel Less Bad | The New York Times

Related, I think, to the story I shared last week about Californians pricing out the people of Boise, Idaho comes this Poll: Homelessness is L.A.'s biggest problem | Los Angeles Times

The NYT partially blew open the lid on China's abuse of Uighurs and others. One of the highlights is how they used America's "War on Terror" to design and justify the oppression because "we're number one!" 5 Takeaways From the Leaked Files on China's Mass Detention of Muslims | The New York Times
I was prepared to be happy about Michael Bloomberg's apology for stop-and-frisk policing policies until I read Maya Wiley: Do black votes matter more than black lives? Mike Bloomberg seems to think so | New York Daily News
ENDORSEMENTS:
I'm on the advisory committee for THE DAVID PRIZE.
Learn and apply to this $200,000 "genius" prize for five NYC residents. The key is to have a vision for NYC (why do New Yorkers need it now) and specific activities that connect to the vision and move it forward (e.g. things that need funding to make them happen, and wouldn't happen but for this prize). There are in-person info sessions over the next seven days in Brooklyn and Queens.
Systemic abuse of power is everywhere. It's systemic! Yoga Is Finally Facing Consent and Unwanted Touch | The New York Times
Some 95 percent of US schools have done "active shooter training," yet there's little data to suggest it's effective. Meanwhile simulating a mass casualty event is itself traumatic. It seems the United States is willing to try anything to address gun violence except the proven tactic of reducing access to guns. Read this and weep. Some fear active shooter training at schools can bring its own form of trauma | Los Angeles Times.
Hear directly from the woman who received 1/20th the credit limit on her Apple Card as her husband despite having an older and higher credit score than him. This piece is incredible! The pull quote: "Justice for another rich white woman is not justice at all." I applied for an Apple Card, and they offered a sexist insult | Fast Company
Continuing… there's stellar analysis in The Verge with this truth: "Apple is trying to have all the benefits of a consumer and privacy-friendly credit card without any of the hassles that come along with it." Apple owns every mistake Goldman Sachs makes with its card | The Verge.
And yes, I'm piling on with this solutions-filled piece by Mutale Nkonde. Is AI Bias a Corporate Social Responsibility Issue? | Wired
Some related Baratunde Links on the above
I hosted a very special episode of my podcast, Spit, on the subject of data and privacy. Listen on iHeart orApple.

The very first comedy presentation / rant I did (call it my proto-TED talk) was in 2007, and I just found the footage which I've offered up on Patreon. It was all about Apple and the holier-than-thou, smug attitude of the company and its super fans. Thanks to my own super fans on Patreon!
In good news on the whole future-of-humanity front, London City fund managers call for rethink of capitalism | Financial Times. Related to that, How a City Fought Runaway Capitalism and Won | The New York Times featuring this gem, "After learning about the retail restrictions in the small California town of Coronado, where the number of national chain restaurants within city limits is limited to 10 or fewer, she advocated for similar legislation against dollar stores in Tulsa."
Finally, ending on joy, I'm so proud of my alma mater. Two students launched this lit campaign video for leadership of the Harvard student government, and they won!
Remember, there's a recommentunde podcast playlist and video playlist.

✊🏾

Peace and Love.