Discover more from Recommentunde
Baratunde offers things to help you process reality and give you the boost to keep shaping it for the better
Over 12,000 subscribers
Recommentunde: Whole Foods Is OUT OF KALE (13 Mar 2020)



it's the latest edition of
The Recommentunde Newsletter
Special We Made It To Friday 13 March 2020 Edition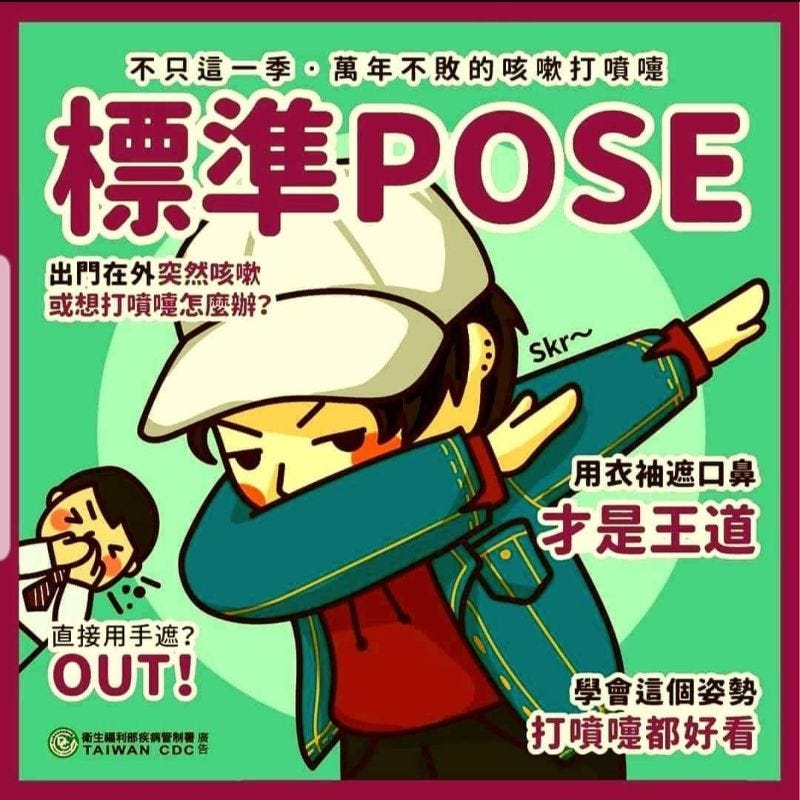 You can find this on my Instagram. Came to me via Dex Thomas (Vice News correspondent) who helped with the translation. 'learn this pose, and when you cough or sneeze, you'll always look cool'
Welcome to a bonus edition of the newsletter because there's a lot going on.

The president of the United States is the pandemic. Just had to get that off my chest.

I just got back from some grocery runs, and it's fascinating to see what's out of stock and where. At the Whole Foods, they were out of kale. Apocalyptic doesn't begin to describe the scene. I thought people were gonna strangle each other with their yoga pants, y'all. Meanwhile my sister tells me the stores in her hood had plenty of toilet paper but no bleach or Takis. Different strokes for different folks, I guess.

As I was checking out at my tiny local grocer this morning, the man behind me asked if he could go ahead of me because he had just one loaf of bread. I was happy to let him skip. While I waited for the line to keep moving, I ordered some meats from behind the counter, and an older lady just jumped in front of both of us. No words. No eye contact. Just, gangster shit. I had words.

"Excuse me. We are both in line waiting here."
"Oh well I saw you still ordering and thought you weren't ready to check out."
"I can't check out because the woman in front of me is still processing. I'm still in line. Furthermore (Yes, I used furthermore in a dispute in the wild), you also cut in front of this man who actually asked."
"Well I didn't know any of that."
"I know you didn't. I'm telling you. You made a lot of assumptions. We're all tin a tough spot." Then I deadpanned, "Thankfully we have solid presidential leadership to get us all through this moment."

At which point everybody laughs, realizing I was not, in fact, about to knock this old lady out for jumping the line. Mostly I encountered nice people trying to negotiate a tense situation gracefully. But there's always someone just looking out for self.

In this special issue, I have more magic links with information and perspective. I'm also integrating some stories you have shared with me via text or email, and some good old fashioned comedy because we need that release as well. Feel free to share more via my text number +1-202-894-8844, or just reply to this email.

Finally, go outside. We are supposed to keep our distance from each other to a degree, but not from nature. So I'm gonna talk to you like my mother talked to me when I was a kid. Go outside. Enjoy parks, shorelines, woods, puddles, whatever you got.

And now, for your irregularly-scheduled content.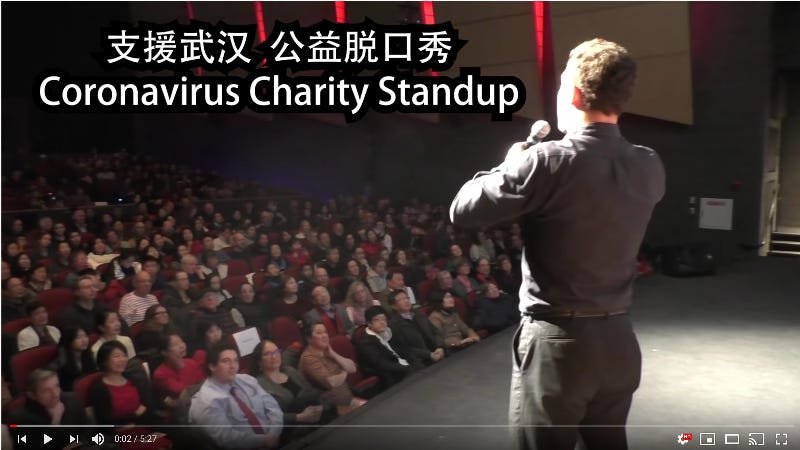 Very funny comedy set by an American who has lived in Beijing. He shares the Chinese experience with quarantine. Trust me this will help!
How Serious is the Coronavirus? Infectious Disease Expert Michael Osterholm Explains
Video clip from the Joe Rogan Experience podcast.
This 15 minute clip is in the category of must watch/listen. I don't think I've ever recommended a Rogan episode here before. This one is essential. His guest is Michael Osterholm . He's very qualified to speak on this topic of this virus, and if you have 90 minutes, I recommend the full episode. COVID-19 might spread simply through breathing. Which brings me to…
Podcast episode from WNYC's On The Media
Valuable perspective on what we can learn from this virus from the isolated case of thousands of passengers aboard the Diamond Princess. Much lower mortality rates, for one.
When should we start social distancing? Now.
Article in the Minneapolis Star Tribune
Co-authored by epidemiologist and journalist in Minnesota (note, Osterholm above is in Minnesota. What is it about those people and pandemics!?). Yes you should postpones your parties and events or transition to virtual if possible. The goal of social distancing is not necessarily to "stop the virus" but instead to slow the spread so our healthcare system can handle the increased load. One of the co-authors wrote this email on messaging and what various civic leaders can do including celebs and healthcare providers. It's real good.
Global academics on COVID-19 coronavirus: 'Over-reacting is better than non-reacting'
Article on World Economic Forum blog (thanks to UKQD for the link)
Very credible article that does a clear job of integrating lots of data and information from experts around the world. Social distancing is a must and free testing, so just ignore what the president of the U.S. says (also generally a good practice beyond pandemics)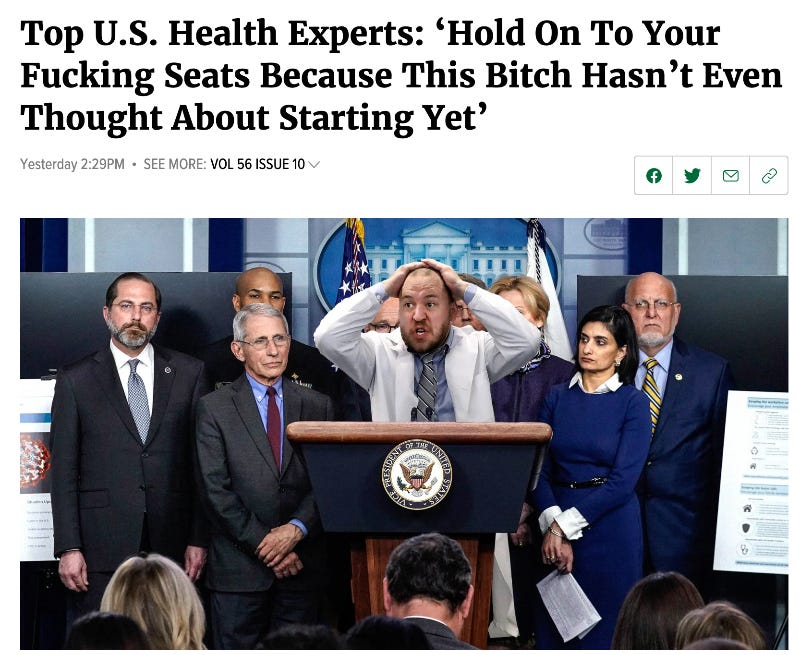 Thank you for this article from The Onion. And thanks to my friend Sam for sharing this via text when I needed it most.
Words From You

My friend Zane runs a private server from which he shares TV and movies generously with a small group of friends. He sent this email yesterday, and it made me smile:

----
Subject: EVERYONE ELSE IS SENDING OUT THESE EMAILS WHY NOT THE GUY YOU STREAM YOUR PIRATED CONTENT FROM?

In these trying times, I want to let you all know that we have increased the capacity and power of the server in the past few weeks, ironically mainly with hardware sourced from China. Out of An Abundance of Caution we are prohibiting more than one user account from streaming the same title concurrently. This will no doubt hit Frozen II and Sonic the Hedgehog viewers hardest, but we all must do our part to keep things contained.
----

Another story I got, this via my community text number

---
We live in the the same neighborhoods as tennis tournament, Coachella and Stage Coach. The economic hit is substantial, however my mom lives in a nursing home, so I'm thankful for the reduction in people in the valley
---

I think it's important for us to remember that it's not merely inconvenient to have events cancelled, nor is it a "hit to the economy." It is also potentially life saving for many people who will have their contact with the infection greatly reduced. Thanks to all making sacrifices to keep us all safer.


Finally here are some lists I recommend on Twitter.
You do not need a Twitter account to read them or even have to follow these people. It's a filtered view through expert science writers and scientists.
A list of fewer than 10 accounts I made. very u.s. centered.

A bigger list of 79 a dope science lady made . more global in scope.
SIGNING OFF
I've been adding to the Recommentunde YouTube playlist and Spotify podcast playlist just for you.
Forward this email to people you know. They can subscribe at baratunde.com/email

Subscribe to my text messages. Send a message to +1-202-894-8844 or visit here.
✊🏾

Peace and Love.