Discover more from Recommentunde
Baratunde offers things to help you process reality and give you the boost to keep shaping it for the better
Over 12,000 subscribers
Recommentunde: Stay Human | 31 Mar 2020



it's the latest edition of
The Recommentunde Newsletter
Sent on 31 March 2020 Edition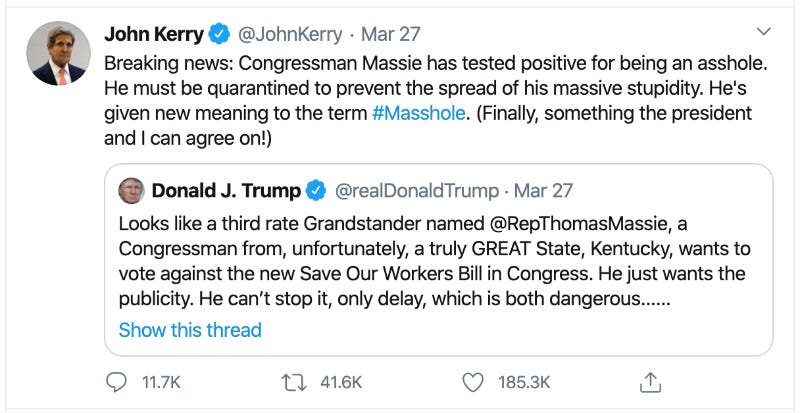 John Kerry's inventory of fucks reached a record low in this tweet.
My next Live On Lockdown show will be this Thursday evening at 7pm PT / 10pm ET. Please join me in the "live studio audience" aka Zoom room by registering here. You can see recent full episodes and clips at baratunde.com/live. On Sunday's show we heard from an Iraq war veteran in Queens, a tech worker in Austin, plus people in Pittsburgh, Chicago, and Minneapolis. We all felt less alone after.
Things you can do right now to help:
Fill. Out. Your. Census. Online. Right now.
For my fellow LA people…
First, please fill out and share this form for donation of personal protective equipment (PPE), especially masks, directly to frontline health workers. Maybe you know folks in construction or cosmetology or film production who have some of this equipment. Maybe your purchased 100 a month ago for your household of two people. Now is the time to get it to our nurses, EMTs, hospital staff, and others directly encountering this virus. If they fall, we all lose. That's ppe.la/donate.
Second, please support this call by Justice LA to save lives in LA County jails.
And New York, you still in my heart. There's a similar PPE donation effort there.
And now for some irregular-content:
Why You Should Ignore All That Coronavirus-Inspired Productivity Pressure
Article in The Chronicle of Higher Education
Gonna start you off with some good advice: don't pretend we aren't in crisis. Lower expectations on yourself. It's written for academics but applies to all humans.
Mailchimp Presents: Support The Shorts
Literally as I logged in to Mailchimp to send this message, I was greeted with this: "With SXSW cancelled, short filmmakers lost a chance for visibility. We hope to change that. Now's your chance to #SupportTheShorts" aka FREE MOVIES!
The Real Lessons of the Coronavirus Pandemic Will Be Political
Article in Foreign Affairs
This is one of the realest takes I have found and reminds me of something Priya Parker said last week I believe on a TED live Facebook stream: "This virus is a social x-ray."
Patton Oswalt Balcony Standup Set
Fun!! video on Twitter.
Less than one minute. Treat yoself!
'White-Collar Quarantine' Over Virus Spotlights Class Divide
Article in The New York Times
It's almost like we live in a highly unequal society whose inequalities are further exacerbated by crisis!
Baratunde Interviews Kirsten van den Hul (Full, Uncut)
Unpublished interview with Dutch MP
I'm still editing down and processing this interview I conducted yesterday, but as with the Shaka Senghor interview last week, I won't wait to get it to you. Kirsten has been a friend for over 10 years and is full of wisdom and heart. She said, "even though the virus does not discriminate, the effect of this pandemic does discriminate." She asks, "what does this mean for children who grow up in violent homes? We've already seen an increase in domestic violence." Most humbly she offered this when I asked how she handles the burden of her constituents' pain:
"I think it's also important that MPs and other politicians also stay human… sometimes just say, okay, this is really sad and now I need to cry because I don't know how to solve this, and it's frustrating and it's painful and personal. That also is part of this job. I don't think it's a sign of weakness when you get emotional or when you need to cry. I think it's a sign of humanity. And I think if there's one thing we need during this crisis, it's humanity, much more of it."
>> Watch the 20-minute interview


A Special Message for President Trunk
Fun! on Instagram
Lots of well-deserved profanity in this video from a mother just trying to escape from her kids for a few minutes. Also has sound policy suggestions included.
When the State Shifted to E-learning, This Rural School Superintendent Shifted to the Copy Machine
Article in Pro Publica
This is a story of resilience and lack of investment, of missed opportunity, and determination. I don't know if I'm more angry or heartened by what's happening in rural America, and those conflicting feelings make this an excellent story to share.
xkcd comic strip from perspective of frustrated virus
Fun! A comic strip
Read the entire thing. You'll feel better.
Superior Design (2020) Full Special
Comedy special on YouTube by James Scott Patterson
I've known James for over 15 years, and he just put his full one hour comedy special on YouTube for free. You deserve this.
Fun! You deserve this one more thing.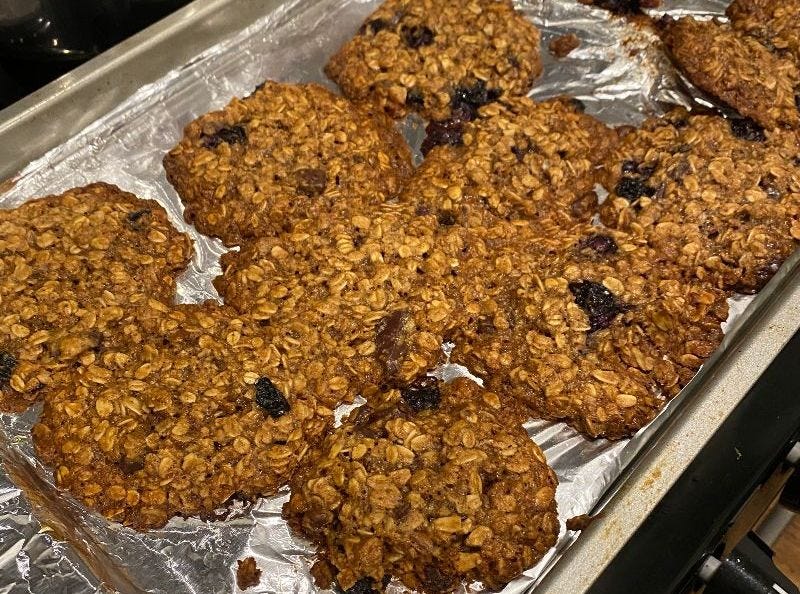 I found way too much oatmeal in the cupboard so I baked cookies.
Recommended Twitter Lists
You do not need a Twitter account to read them or even have to follow these people. It's a filtered view through expert science writers and scientists.
A list of 11 accounts I made. very U.S. centered.

A bigger list of 89 a dope science lady made. More global in scope.
SIGNING OFF
I've been adding to the Recommentunde YouTube playlist and Spotify podcast playlist just for you.
Forward this email to people you know. They can subscribe at baratunde.com/email

Subscribe to my text messages, and interact with me directly and relatively quickly. Send a message to +1-202-894-8844 or visit here to sign up.
✊🏾

Peace and Love.