Discover more from Recommentunde
Baratunde offers things to help you process reality and give you the boost to keep shaping it for the better
Over 12,000 subscribers
Recommentunde: Gentefied | 14 April 2020



it's the latest edition of
The Recommentunde Newsletter
Sent on 14 April 2020 Edition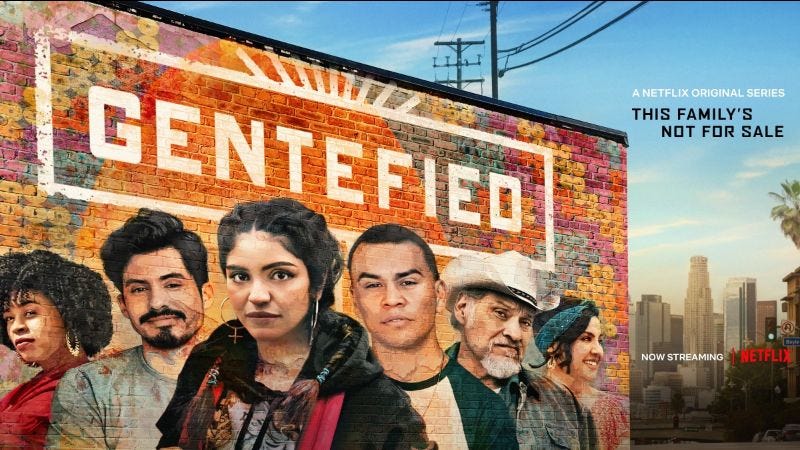 Forget the Tiger King. Gentefied is the show everyone should be watching on Netflix.
Hi,
First a self-fact-check. Tommy Lee didn't write that epic letter about Trump. Thanks to those of you who pointed this out to me. The letter was originally written on the DailyKos website. More here. See, admitting errors and mistakes is good. I feel better. You feel better. Now if only we had a presid--
In Live On Lockdown, I've continued to interview folks with unique perspectives on this moment including the artist JR, NY State Senator Gustavo Rivera, and people who just show up on the live show on Zoom including Sunday's show in which Eve Blossom shared that she's working directly with Apple to provide iPads to ICUs so patients can connect with families.

I've just uploaded a segment without transcription yet, but want you to see it ASAP. There's a great white paper from the ethics department at Harvard on how we restart society. In under 10 minutes I break it down in more human-understandable terms. There's a right and wrong way to do this. Let's do it right.
There's a lot more fun coming, so stay tuned! The next show is this Thursday evening (7p PT / 10p ET) on Instagram live.
Now to my opening rant, which is really a celebration this week.
You need to watch an incredible Netflix comedy series called Gentefied (pronounced HEN-te-fied). It's a combination of "gente" the Spanish word for "people" and gentrified, the American word for "white people returning to claim the cities they abandoned decades while displacing the people of color who held it down the entire time."
This may be the show of the year. As Elizabeth explained to me, this is the show everyone should be talking about. Not the stupid Tiger King.
For years I was looking for a good story about gentrification. The closest I could find was the podcast series There Goes The Neighborhood. Now there's a televised comedy series which explores the same complex topics of belonging, displacement, class, race, and power but in a beautifully human and entertaining way. The show is about so much more than gentrification. It's a really layered exploration of Latinx culture, and I think it's a model of storytelling about any community.
The acting in this series is spectacular. The characters are believable and grounded. The dialogue is human and humorous, and you don't feel like you're being lectured to by the writers room.
And the show is funny! Like really funny. Yet the topic is so serious. The creators, producers, cast, and crew really made a beautiful piece of art, and this is the show everyone should be talking about. Not Tiger King.
So here is my request of you: watch Gentefied. Watch it especially if you think it has nothing to do with you. Once you've gotten into it, follow the show on IG, Facebook, or Twitter. Then let me know what you think. You can always reply to these emails — I see everything. Or you can find me on the socials or text me at 202-894-8844.
And now for your regularly-scheduled programming in these irregular times.
The Coronavirus Has Laid Bare the Inequality of America's Health Care
Article in The NY Times
The authors pull no punches in explaining how tragic our well-funded, poorly-delivered healthcare system is in the U.S. We are being reminded yet again that major changes are long overdue. Will this virus finally motivate us to fix what's broken, or will we double down on profits over people yet again?
Coronavirus closure returns Yosemite to the animals
Photos in the LA Times
The animals are taking over. We've seen bobcats, hawks, and flexier-than-usual squirrels just on our block. The LA Times takes a look at Yosemite without us annoying humans around. It's beautiful. Maybe the virus is people?
Amsterdam to embrace 'doughnut' model to mend post-coronavirus economy | World news | The Guardian
Article in The Guardian
I remember seeing the TED talk by Kate Raworth on "donut economics." The idea was that infinite economic growth is a cancer on our ecosystem, and we need to think instead about an inner bound to guarantee the basics for everyone then an outer bound defined by what our ecosystem can handle. That's the donut! The good people of Amsterdam are the first city to try to implement this model at scale after coronavirus.
I'm a Domestic Worker Who Was Fired Because of the Coronavirus
Article in The NY Times
Short but excellent point of view on this crisis from a home health worker who lost her job as the family closed ranks on all "outsiders." The National Domestic Workers Alliance has created a coronavirus care fund to support workers, many of whom aren't eligible for the federal stimulus because they aren't citizens.
New podcast alert!
Priya Parker, who I've cited several times in this newsletter, has leveled up on her practice of helping people have meaningful gatherings. She has a new podcast with the New York Times exploring how we can gather apart with meaning in this time. The first episode includes her advising a family hosting a passover. Fun insight: for the first time, it's the young people who are leading the ritual because they are more knowledgable about the tech platforms.
In March, Trump Promised Resources To Fight The Pandemic. Few Happened
Big Pile Of Receipts from NPR
Don't let the quiet voices on air fool you. These NPR journalists will straight up cut you! That's the feeling I got reading this report on all the broken promises of our president. TThe NYT has a related epic piece of investigative journalism. his is the sort of journalism we've needed for the past, say, decade.
Prepare for the Ultimate Gaslighting
Article on Medium
Speaking of gaslighting… The author predicts a flood of marketing messages trying to fill the depressive hole created by our physical isolation. Will we forget what this solitude has shown us, or will we carry forward the positive lessons about the kind of world we can build? I vote for the latter, but it's up to us all to make it so.
Behold Dune: An Exclusive Look at Timothée Chalamet, Zendaya, Oscar Isaac, and More
Article in Vanity Fair
I love the Dune series. Actually love it. It was one of the epic tails that bound my family together growing up. And I've been so annoyed at the film versions, but it looks like we might be getting a good one later this year.
'We need an army': Hiring of coronavirus trackers is likely set to soar
Article in STAT news
This is one of the most credible news sources in a pandemic age. This piece lays out what's required to achieve a healthy return to society, the one I explained in the Harvard ethics video above.
These Twin Sisters Are on the Front Lines Fighting the "Pandemic of Inequality" in New York City
Article in Mother Jones
I went to college with Uche and Oni Blackstock, and it's great to see them getting credit for work they've been dedicated to for years. Read this for a front-row perspective on the disparities of response to this virus in the U.S. and some inspiration from badass black women making a difference.
U.S. shouldn't bail out hedge funds, billionaires during coronavirus pandemic
Epic video on CNBC via YouTube
Thanks to Sashka for sending this one in. It's worth watching many many times as this investor argues that speculative investors and hedge fund folks should not be bailed out but instead allowed to fail. It's how capitalism is supposed to work. The CNBC host reaction is fun to watch. This piece by Scott Galloway, also from Sashka, offers a similar message but in printed words with more data support.
Frank Snowden on how coronavirus is an opportunity to build a better world
Article in Vox (which has been killing it)
Here's another in the pile of things-to-look-forward to. Here's a thoughtful interview reminding us that we can use this moment to rebuild something better than what existed before.
SIGNING OFF
I've been adding to the Recommentunde YouTube playlist and Spotify podcast playlist just for you.
Forward this email to people you know. They can subscribe at baratunde.com/email

Subscribe to my text messages, and interact with me directly and relatively quickly. Send a message to +1-202-894-8844 or visit here to sign up.
✊🏾

Peace and Love.