Discover more from Recommentunde
Baratunde offers things to help you process reality and give you the boost to keep shaping it for the better
Over 12,000 subscribers
Recommentunde: How We Reopen | 21 April 2020



it's the latest edition of
The Recommentunde Newsletter
Sent on 21 April 2020 Edition
Hi. It's Tuesday. I just thought you might need that reminder.
From the world of Live On Lockdown I'm excited to share part one of my interview with my sister, Belinda!!! She runs the JustBYoga studio in Lansing, Michigan, and we talked pandemic yoga, getting trapped in traffic due to the lockdown protests, and what it means to mourn the dead in isolation.
I've got more interviews and show topics on deck including climate activist Dahni-El Giles, California State Assemblymember Wendy Carrillo and my own impassioned case for saving the US Postal Service (I got so animated y'all!). On this past Sunday's show we had our first field report from a closet as Jenn Nickel shared some of life in Fort Wayne, Indiana while hiding from her kids. The struggle is real.
The show archives are always at baratunde.com/live. Next show is on Instagram Live this Thursday 7pm Pacific, 10pm Eastern. I made a Google Calendar event for you to help remember.
And now, for your regularly-schedule content during these irregular times.
The United States has a way out of this. There's literally a plan. Form of: 2-minute explainer video!
This Is How We Reopen
Last week I made a video. It was good. In just over 9 minutes, I summarized a Harvard white paper which defined a path forward out of this mess. Since then the group behind the paper has grown to include liberal and conservative groups, governors, public health officials, and more. There's a formal Roadmap To Pandemic Resilience that's been published and a 14-minute YouTube explainer if you don't have time for 56-page PDFs, and a 2-minute version if you don't have 14 minutes. The woman leading the effort, Dr. Danielle Allen, is a certified badass black woman. The strategy she recommends comes down to testing, tracing, and supported isolation. Here she is explaining the value of ramping up testing to 5 million per day (from the current 150,000) on ABC News.

Spoiler: we need massive testing to a level where our positive results are only three percent. Dr. Allen explains well in the video. It's to help control the spread, not just diagnose those with the virus. We test. We trace the contacts of those with positive results. We isolate the positives with support (funding, resources, compassion).

Help by sharing the 2-minute video
That or we continue to live in the path of dystopia…

The Coronavirus Revealed America's Failures
Devastating article in The Atlantic
This is the best overall analysis of what's happening with the U.S. response right now. George Packer just lays it out. It's long. It's hard. It's true. It's essential. This doesn't have to be our future, but it is our current reality.
How You're Responding and the Good You're Seeing.
In the weekend edition, I put out a survey asking several questions. You can still take it. The results really are something to behold. I'll be sharing these results on the socials later. Right now, I want you to be inspired by your collective selves. Check out these mood boards of awesomeness you made.
I also asked who would you prefer to be president, and you were clear in your support for a Biden-Puppy administration: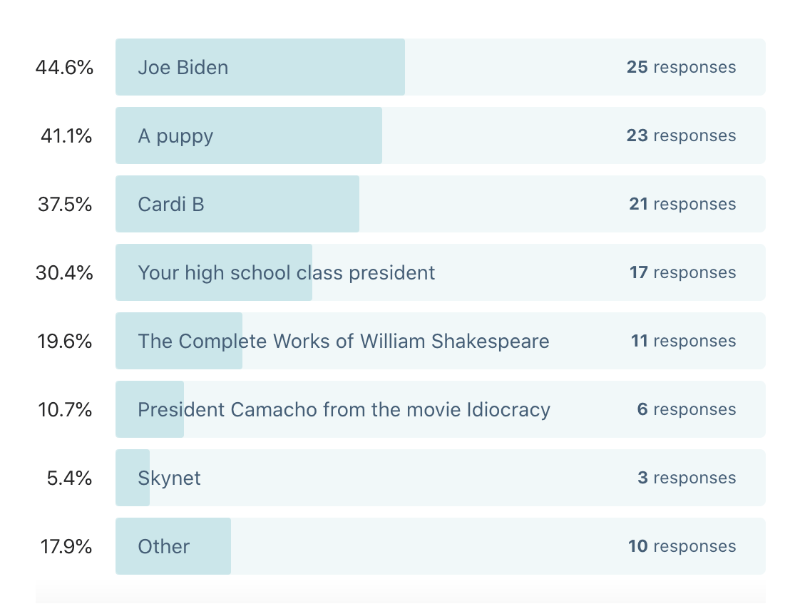 Support Last Mile Los Angeles PPE
A fundraiser for Los Angeles PPE distribution efforts
For the past few weeks, my home has become a hub of Zoom door knocks and WhatsApp notifications as Elizabeth has led a local effort to get PPE directly into the hands of frontline health workers. She's doing that in part because she's competent and wants to be helpful and in part because the U.S. federal government has abandoned its people. FEMA is stealing supplies from the states. Hospital administrators are keeping donated supplies from doctors and nurses. Fraud in the space is rampant. Last Mile L.A. PPE distributes directly to health workers and has access to verified N95s from a legit domestic supplier. We are working to raise $25K which will cover approximately 12,500 masks for our local health workers in need. Learn about this effort, and please share the fundraiser with others who love Los Angeles.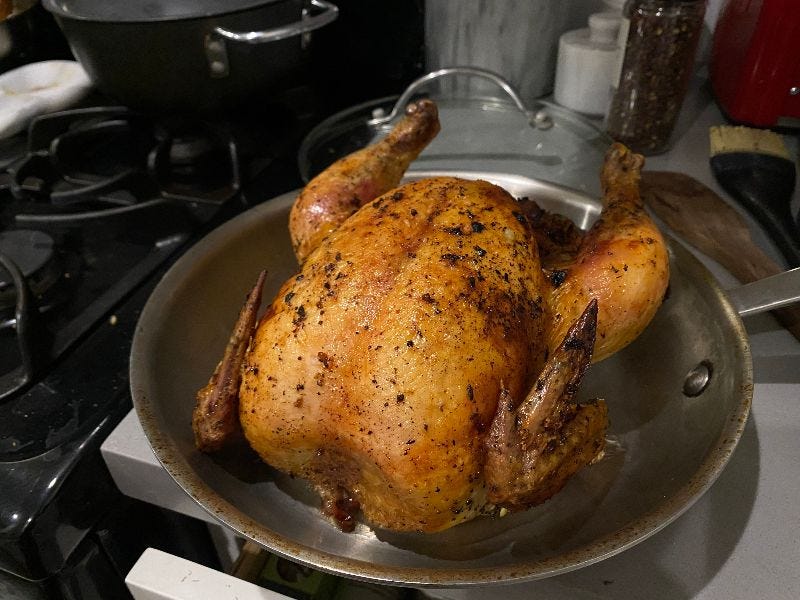 And now… My Roast Chicken Recipe
In this past weekend's newsletter I shared an image of some chickens I roasted. I got requests for the recipe, so here goes.

Dry brine the bird first. This means patting it down with paper towels to get all the moisture out then smack it up, flip it, and rub it down with lemon zest, minced garlic, lots of salt and pepper. Let it sit, uncovered, in the fridge for 24 hours while you binge a few seasons of The Wire. That's how you get the crispy skin.

Before roasting, sit the bird on the counter for about an hour so it's not so cold. Rub it down with olive oil and more salt while singing old Jodeci songs. Fill the cavity with two lemon halves and some rosemary sprigs and more salt. As you do this, imagine you're on a beach making sand castles.

Roast at 425 degrees for about 90 minutes on a bed of sweet potatoes and garlic. Then crank the oven to 450 for another 30 minutes. Let it sit for 15 minutes outside the oven. Use this time to wash your hands and make an unplanned video call to a friend. Confirm your voter registration too.

Oh, I forgot to mention, you should roast two birds at once. One for you, and one for a neighbor who doesn't have time to go through all this. Dry brine. It's your new religion.
SIGNING OFF
I've been adding to the Recommentunde YouTube playlist and Spotify podcast playlist just for you.
Forward this email to people you know. They can subscribe at baratunde.com/email

Subscribe to my text messages, and interact with me directly and relatively quickly. Send a message to +1-202-894-8844 or visit here to sign up.
✊🏾

Peace and Love.