Discover more from Recommentunde
Baratunde offers things to help you process reality and give you the boost to keep shaping it for the better
Over 12,000 subscribers
Recommentunde: Amy Cooper 😖 | 19 May 2020



it's the latest edition of
The Recommentunde Newsletter
Sent on 26 May 2020 Edition
Hi you,
It's me.
I've booked a comedy show for the evening of June 3rd, and you should be there… in the cloud of course… in Zoom… at the virtual Nowhere Comedy Club. There is limited capacity, so get your tickets now, then tell others.
I'll use this show to share my observations on life under lockdown and beyond, plus I'll riff on the topics you provide. There's a VIP ticket which includes a smaller meet and greet after along with exclusive access to videos I've literally never shared with anyone: mid-1990s footage that proves I helped invent the internet!
In other important news, it remains open season on black people in the United States. I woke up to twin tragic news. Police in Minneapolis murdered a black man on video, in cold blood, despite his protestations that he couldn't breath. It was Eric Garner all over again. Then there's the story of Amy Cooper, the Central Park dog walker who tried to sick the police on a black man there to watch birds because he dared ask her to leash her dog. I made my own video response (also on Twitter and FB) to this latest example of white supremacy in action, and I've revised my call-to-action for basically every white person in this country.
Now for your regularly-scheduled content in these irregular times.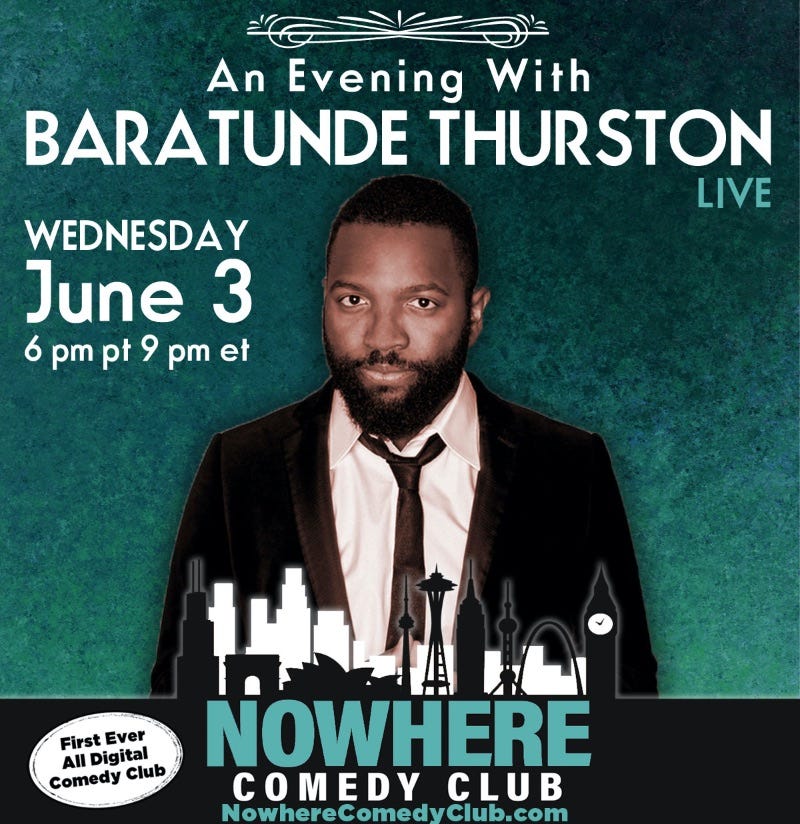 This is the poster for my June 3rd show. Click it or right here for tickets.
Editorial in the New York Times
I had no idea how Memorial Day was first commemorated. Of course, by black people! The author of this piece is David Blight who wrote an incredible biography of Frederick Douglass. I highly recommend all the words he composes.
30 Singular Films to Watch in Quarantine
Article in The Atlantic
This is just what it sounds like. You're welcome.
What Happened to the Great American Logistics Machine?
Article in the New York Times
Add this to the pile of exhibits that the era of U.S. "greatness" may be behind us. The myth is facing reality, and logistics shows us how.
"We're just having a bit of an earthquake here": New Zealand Prime Minister Jacinda Ardern
Short video on Twitter
New Zealand has a competent leader, Jacinda Ardern. I think it's helpful to remember that competent leadership is not only possible, it's real, and it's something we all deserve.
The Dangers of Trying to Be Superwoman
Article in Medium
A thoughtful piece about the dangers of excess stress women, especially women of color, face. The article also includes some specific tips for managing this stress and improving health.
Instagram Video by Ina Garten
She's just a joy to watch.
Yo-Yo Ma Recalls Performing for JFK as a 7-Year-Old
Video on YouTube
This is a promotion for a Friday night fundraiser. The full broadcast will include performances by Harry Belafonte, Bob Newhart, Marian Anderson, Danny Kaye, Robert Frost, Maria Tallchief, Andre Previn and Hal Holbrook. Go culture!
SIGNING OFF
I've been adding to the Recommentunde YouTube playlist and Spotify podcast playlist just for you.
Forward this email to people you know. They can subscribe at baratunde.com/email

Subscribe to my text messages, and interact with me directly and relatively quickly. Send a message to +1-202-894-8844 or visit here to sign up.
✊🏾

Peace and Love.