Discover more from Recommentunde
Baratunde offers things to help you process reality and give you the boost to keep shaping it for the better
Over 12,000 subscribers
Recommentunde: Mission Not Accomplished | 30 June 2020



it's the latest edition of
The Recommentunde Newsletter
Sent on 16 June 2020 Edition
Hi you.
It's me.
Will we learn?
I remember when the then-seemingly-least-competent president of the United States, George W. Bush, declared victory and "Mission Accomplished" years before the war he started would come to an end. All these years later, has it come to an end? Arguably not. So he looked dumb, but more importantly, he was wrong. So wrong. And cost a lot of lives and money.
Here we are again, with an even less intelligent, less patriotic, and less competent president than anyone could imagine (except those of us who told you exactly how this would go), and that leader just wanted to declare a "win" over the virus, as if a virus could be bullied by talking points.
So the president set the tone: virus as hoax, virus as seasonal flu, masks as signs of weakness, lockdowns are for losers. But to put this on the president alone is to lie.
He was abetted by the Republican Party which still refuses to hold him accountable and follows his lead into a multiple-war's-worth of death in just a few months. And there were governors seeking to placate the president, who feared him more than the deaths of their residents. And there were media outlets who sought to serve their bottom line over the public good. And there was the culture of individualism which would always make the United States a hard place to engage in collective action. And there was the weakened safety net which assured that too many of us are held hostage by our finances and forced back into work. And there was racism which saw black lives, brown lives, indigenous lives as expendable. And there was ageism which said, "let the grandparents die: I want to go to the beach."
Here we are again, back where we started but worse, with higher infection numbers and fewer reserves of cash or patience.
This is not good, and I feel no desire to make it appear so. The United States of America has failed.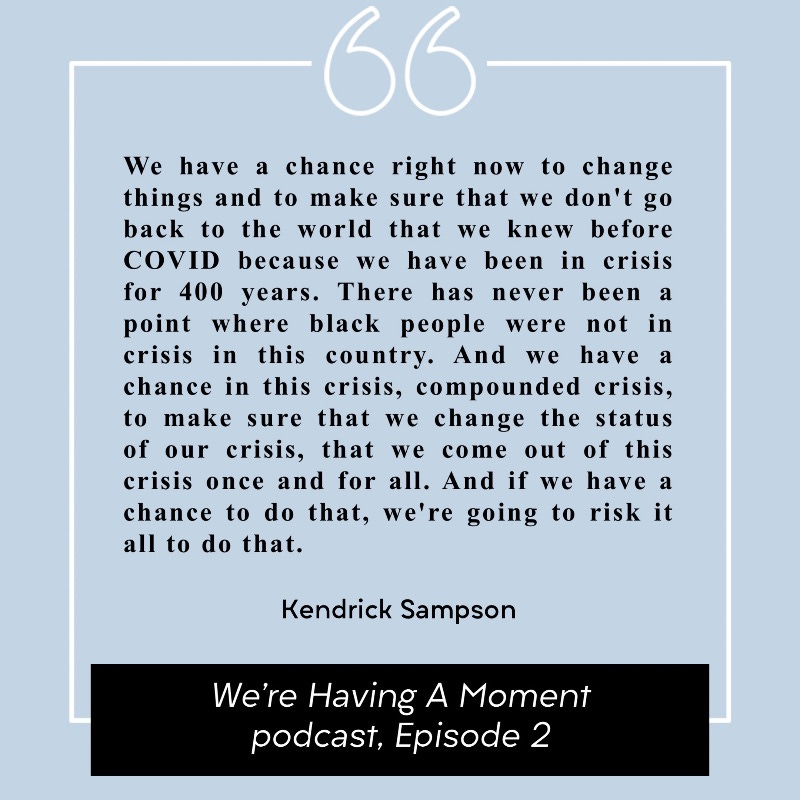 Subscribe, listen, rate, review, and print out my podcast. We're Having A Moment
Episode 2 of my podcast, We're Having A Moment, is live, and it is very, very good. I speak with a North Minneapolis resident, Gunnar Carlson, and with actor and activist Kendrick Sampson about protests in the age of pandemic and if there's every a right way for Black people to demand our freedom.
Coronavirus: A Horrifying Rise in U.S. Covid Cases Is Explained
Article in Bloomberg
Pretty charts that reveal an ugly truth. We failed.
Black Americans leave US to escape racism, build lives abroad
Article in USA Today
So let's leave right? Money quote from this article: "Our racism isn't as lethal as yours," said the Brit to the American. No place is perfect, and yes Europe has Nazis and racism, but they also have paid parental leave and universal health care. Social safety nets help the racism go down! Meanwhile, I'm steady looking up costs of living in Ghana.
The Osterholm Update: COVID-19 Podcasts
Essential podcast for these times
Besides my new podcast, the other most important podcast right now is with Dr. Michael Osterholm, the disease detective out of the Center for Infectious Disease Research and Policy (CIDRAP). He's honest, transparent, and very well informed. Listen to him before any news anchor on the subject of COVID-19.
Poorer Cities Spend More of Budget on Police, Even Where Crime Is Lower – Sludge
Article on Sludge
No surprises here but good to see the data. As I've said on my podcast and other places, policing in the United States is not about public health and safety. It's about population control.
Why police brutality is so hard to prosecute
Twitter video by @thekaranmenon
A less-than-45-second explanation of "qualified immunity" and how it protects abusive police officers from accountability.
Letter from LA's Concerned City Workers
Open letter
Calls to Defund The Police emerged most strongly from right here in Los Angeles thanks to Black Lives Matter LA and the People's Budget LA process. Now city workers are starting to support the measure as well. Move that money from policing into more effective forms of community support.
New research explores how conservative media misinformation may have intensified coronavirus
Article in The Washington Post
Quote: "infection and mortality rates are higher in places where one pundit who initially downplayed the severity of the pandemic — Fox News's Sean Hannity — reaches the largest audiences." I'll say it again. I'm looking forward to the COVID Tribunals where we hold leaders accountable for reckless endangerment and neglectful mass homicide.
How Facebook wrote its rules to accommodate Trump
Article in The Washington Post
Mark Zuckerberg is the worst. More concerned with cozying up to power than using his own to do the right thing. Yes I still use Zuck-owned properties because I'm a hostage to our non-competitive digital landscape.
Video on Instagram
Thanks to Tricia for posting this on her feed where I found it. St. James street in Brooklyn has become home to a beautiful street dance party that reminds me of my favorite parts of Brooklyn / NYC / East coast living. Check out this elder brother get down!
Amanda Seales opening monologue from BET Awards
Video on Instagram
Amanda killed it. And the BET Awards in general did a great job with the social distancing. Special love to the musical artists speaking truth to this moment. If you've got a cable tv subscription, you can re-watch the show here.
A truly useful graphic about the power of wearing masks
Post on Instagram
From my high school classmate Ben Lorenz. The data is directionally sound but will vary by mask material, prevailing winds and all that jazz. The key takeaway is that our communities and economies are most protected when everyone wears a mask. This will be a hard sell in America, but let's keep saying it.
Online Class recommendation!
Several weeks ago, I took part in an event called HOMME: A meditation on language and visibility. Khadijat Oseni produced it and invited on me, poet Mahogany Browne, and editor-professor-swagalicious Yahdon Israel. Yahdon helped me push my grammar game to a level beyond my TED talk by revealing the harm we experience in the passive voice around police killings. "George Floyd was killed?" No. "Derek Chauvin Killed George Floyd." I have a longer interview with Yahdon coming on WHAM, but I'm telling you now, consider enrolling in his online Language Barrier classes.
'Gentefied' Renewed for Season 2 at Netflix | Hollywood Reporter
GOOD NEWS!
I already told y'all this is one of my favorite shows ever. Glad to see the industry recognizing it. Now green light all our shows!
See No Stranger - Valarie Kaur
New book from a Great Human.
Valerie Kaur is one of the prophetic voices of our time. On December 31, 2016 she spoke and made the following remarks about the state of our nation: "What if this darkness is not the darkness of the tomb, but the darkness of the womb? What if our America is not dead but a country that is waiting to be born?" I celebrated her then, erupted with joy when I had the chance to meet her, and encourage you now to buy her book!
How Digital Tools Can Help Us Beat the Coronavirus - Vitamin Z
Article / Newsletter on Substack
Daniel Zahler has been a regular at Live On Lockdown, and we've all taken an interest in his pandemic dating life. Turns out he also has a dope newsletter of his own, and this latest is filled with COVID-19 wisdom.
Florida Woman Rants Agains Masks, 5G, Bill Gates
Twitter video
In case you missed it. This woman clearly is in charge of the coronavirus task force in the U.S. The clip is hilarious and terrifying, and I've never seen so much nonsense from so many different directions compressed into so little time. It's impressive.
Rebecca Walker made you an Infographic about addressing White Supremacy
Post on Instagram
It's just real good. Like the opposite of Florida Woman. Lots of great information in a tiny package.
YouTube
I just noticed Netflix put 13th on YouTube for all to see for free. Wow.
HAMILTON IS COMING TO MY HOME!
Trailer on YouTube.
I've resisted signing up for the mouse-based streaming service, but this week my resolve will break as I sign up for Disney+ to watch Hamilton. That's all.
SIGNING OFF
I've been adding to the Recommentunde YouTube playlist and Spotify podcast playlist just for you.
Forward this email to people you know. They can subscribe at baratunde.com/email

Subscribe to my text messages, and interact with me directly and relatively quickly. Send a message to +1-202-894-8844 or visit here to sign up.
✊🏾

Peace and Love.