Discover more from Recommentunde
Baratunde offers things to help you process reality and give you the boost to keep shaping it for the better
Over 12,000 subscribers
Recommentunde: 18-24 Months | 14 July 2020



it's the latest edition of
The Recommentunde Newsletter
Sent on 14 July 2020 Edition
Hi you.
It's me.
Welcome to another day.
I want us to make it to November. It's clear to me that the current U.S. president is trying to kill as many of us as possible, and very few people with power are trying in earnest to stop him, so… hang in there!? Also, Coronavirus Tribunals. I'm gonna keep saying it until someone sets it up. What else do you do when war crimes are afoot?
Meanwhile, the grand re-closing is upon us because we lacked clear guidance and leadership from the start. Even in my state of California, we are hovering at the edge of the red zone, not simply because people "don't want to wear masks," but because our state and local governments were too eager to get things moving again. There is a special problem with red state governors trying to appease the president instead of saving their own people, but Republicans do not have a monopoly on bad leadership.
I read a scathing and revealing thread about how my Los Angeles leaders, including Mayor Eric Garcetti, reopened bars and restaurants with just hours notice. That's not the president's fault. And last night I watched his briefing, and he took no responsibility for the situation we're in. Instead he admonished us (while using the word "love" a lot, as is his woo woo west coast style) and told us to be more responsible.
Back when I first started making Live On Lockdown in early guest, Rahaf Harfoush, said this thing would last 18-24 months. She lives in France, so she exists beyond the U.S. reality distortion field. She was right. Let's pace ourselves and use this time to reimagine better ways to do literally everything.
And now, for your regularly scheduled content.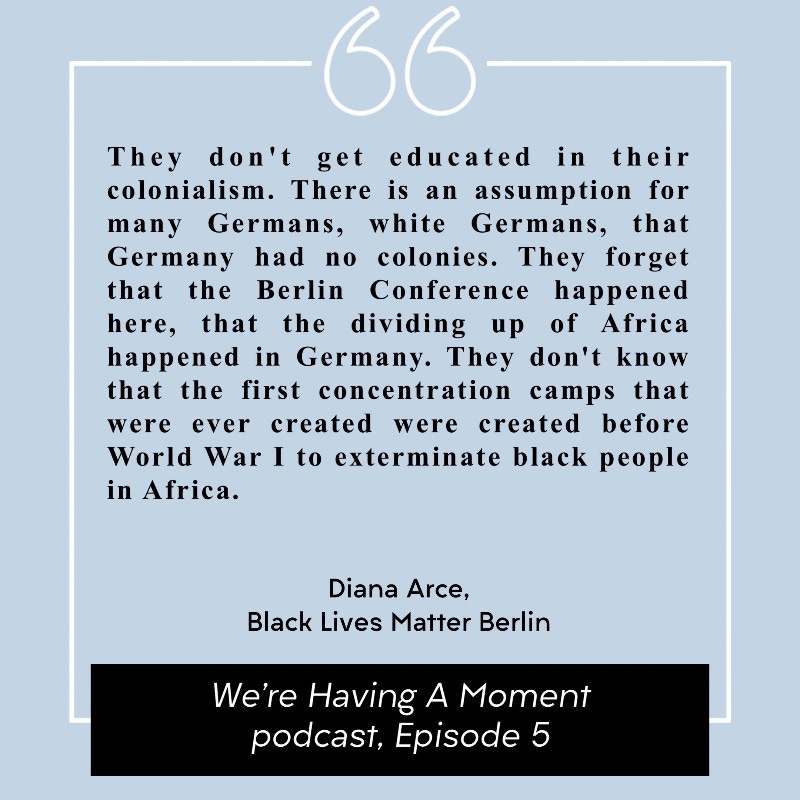 In the latest episode of WHAM, we go to Germany!
New podcast episode dropped today: Black Germans!
Podcast episode on internet
In episode 5 of We're Having A Moment, I spoke with Diana Arce of Black Lives Matter Berlin. I wanted a perspective from overseas where we've seen so many protests happening, not just in solidarity, but in response to local challenges. Diana puts it all out there about the denial of racism in Germany and Europe more broadly. It's really enlightening and takes some of the shine off my asylum-seeking plan, but still, universal healthcare. Direct links on Apple Podcasts and Spotify.
Get tickets for my show this Thursday.
Tickets to Online Event
No Live On Lockdown this Thursday. Instead, I'm eager to try out this new platform called Looped and to break out some updates to the show I did way back on June 3, approximately 38 years ago. Join me!
JOB: Baratunde Seeks Video Editor
I've been putting out a lot of video content these past few months, and I've been managing it entirely on my own, having taught myself Adobe Premiere, Photoshop, Handbrake and a few other tools. Reddit and YouTube have been great teachers, but I'm ready for some professional human help, and thanks to the support of my Patrons, I have some resources (aka "money") to use. I need a video editor. The footage is simple: me and remote guests trapped inside our homes. There are monologues and interviews, and I'm doing two to three shows per week, up to one hour each. I want someone with faster, better skills than me to make the cuts (based on communication with me), insert graphics and motion (based on templates and specs from a designer), and help me manage the workflow in a way that's sustainable. The finished work is for YouTube, Vimeo, and social media for now. Do you know someone who could do this? Have them reach out to assistant@baratunde.com with sample work, and day rate or project fees if possible.
Suzan Harjo fought for Redskins name change for decades
Article in The Washington Post
The Washington concussion-ball team will finally change its racist name, not because of decades of protest by indigenous communities, but because a global shipping corporation threatened to take their money away. If FedEx wants to help with reparations too, I'm down. They can make sure we get our checks and fast! This article features Suzan Shown Harjo, a founding trustee of the National Museum of the American Indian.
Macho mask ads are a thing now
Article in Fast Company
Thanks to Katie for sending this to me on IG. Shame rarely works to change behavior, though it feels righteously good among those who believe they are right. Let's try something different courtesy of Steve Bullock in Montana.
Michaela Coel's 'I May Destroy You' Will Tear You Apart
Article in Vulture
I love everything about this story from the subject (black British woman comedian) to the writing style itself.
A teenager invited me to his podcast
Podcast episode on Apple Podcasts
Liam Wallace lives in New Jersey and hosts Government Gang Politics, and I couldn't say no to him. He's better than a lot of interviewers who get regular compensation and health insurance to do the job. You can also listen on Spotify.
'Adon Olam' to the Tune of a 'Hamilton' Song Is Here & It's Amazing
Article and video from Kveller
I don't speak Hebrew, but I appreciate this so much. It's from November 2016 and features a cantor singing to the tune of You'll Be Back from Hamilton. It's a great performance, and I learned a bit more about Judaism. Leaning is good!
Political content has taken over Instagram thanks to Black Lives Matter
Big article in Vox
I can personally attest to this. My feed and following have changed dramatically in the past month. Here's a lot of the reasons why.
Community Fridges are Becoming A Thing
Series of IG accounts
Thanks to Taya for telling me about the LA Community Fridge which offers free food to those who need it. The project was inspired by an NYC-based anarchist network. They, in turn, give credit to The Freedge (also on the regular web) which offers guides to creating your own community fridge.
Campaign to end human rights violations in Prince George's County Jail.
We warehouse human beings not yet convicted of any crime in our jails. We subject them to this deadly disease. We discard them. These are the stories of people left behind along with ways you can help.
The Republicans Who Want to Destroy Trump
Article in The New York Times
I've been waiting for this, literally screaming about this: where are the Republicans who will admit that their president is a threat to us all? Where are the Republicans who will actively, publicly support Joe Biden and campaign against the current president. Here they are: The Lincoln Project.
Indigenous People Have Many Solutions To The Climate Crisis. Let's Listen
Video on Instagram.
I love this video from The Center for Cultural Power a lot. It's funny, inspiring, and has a message we don't hear often which positions indigenous people as more than victims of dehumanization. Enjoy and share. It's also on Facebook and YouTube, and Twitter.
SIGNING OFF
I've been adding to the Recommentunde YouTube playlist and Spotify podcast playlist just for you.
Forward this email to people you know. They can subscribe at baratunde.com/email

Subscribe to my text messages, and interact with me directly and relatively quickly. Send a message to +1-202-894-8844 or visit here to sign up.
✊🏾

Peace and Love.