Discover more from Recommentunde
Baratunde offers things to help you process reality and give you the boost to keep shaping it for the better
Over 12,000 subscribers
Recommentunde: We Blew It | 21 July 2020



it's the latest edition of
The Recommentunde Newsletter
Sent on 14 July 2020 Edition
Hi you.
It's me.
We Blew It.
There's a great sports metaphor waiting for me, if I could just remember how sports worked. A team has an advantage. They know the opponent. They have footage of how this opponent works. They are months ahead in being able to prepare for the matchup, and they have the highest paid players in the league. But instead of using that time and those resources to get ready for one of the most challenging contests of their lives, they devote their resources to watching cable news, shooting rubber bullets into groups of their fans, and defending racist statues that even racists don't defend.
Such is the state of the union right now in the United States. We have wasted such an extraordinary amount of advantage that other nations now pity us — not envy, not hate, pity. They say, "Don't meet your heroes." I think this is why. Sometimes your heroes are just broken, hurt children walking around in grownup body suits. How else can you explain that up to 50 percent of Americans may not get a coronavirus vaccine? No mask. No social distancing. No medicine. Can an entire nation be suicidal?
More important, what are we going to do about it?
I have some ideas. Today marks the release of the final episode of my limited-run podcast series, We're Having A Moment. Yep! We fixed all the systemic racism in policing, so it's on to new challenges! Please listen to the final episode (and all the episodes because we told a story in a certain sequence). This show works as a record of the now. The spoiler alert is that there's more to come in the form of another show and ongoing project!
We're going to rebuild the whole damned system. How about that?
We know what's broken. We know the problems. We know what we need to do to create a society worth living in. So I'm going to contribute what I can, with your help, to that effort. Together we are going to map out the world as we want it through a project called How To Citizen with Baratunde.
It will be a bigger podcast, not limited at all. We are going to reimagine and reclaim this term "citizen," taking it back from those who would weaponize it against people who lack the documentation, and instead we will interpret it as a verb, actively inviting everyone's participation. We will remember how to wield our collective power in service of something beyond selfish interests. That's the idea behind this whole self-government experiment right?
We are taping the first episode next week with Eric Liu, co-founder of Citizen University. It's going to be inspiring and I want you to join me. We are making this show with you, taping with a live studio audience (ok, Zoom). I want you to be there to ask questions, chat with each other, and help create this. If you are reading this email, you'll be among the first to get invited to the taping — patrons get actual first dibs. I'll send an invite likely in my Saturday newsletter.
How To Citizen with Baratunde is going to pick up where WHAM left off. We are going to reimagine public safety, food systems, labor organizing, and the economy. We are going to highlight people and organizations doing this work right now to benefit the many not just the few. And we are going to give you something to do beyond screaming at your screens.
If you have ideas for people, organizations, companies we should be talking to, reply to this email. I am tired y'all. I'm tired of looking at the ugliness and brokenness. I'm tired of being told we have no power and that the system is rigged. People built this system. People can build something better. I'm ready to focus my energies on what we fight for, not just against. And with an urgent election approaching, I think it's critical to have a vision of the world we want, not just one we fear.
If this sounds dope to you, please spread this message. Encourage people to join this email list or my text list at 202-894-8844
And now, for your regularly-scheduled content.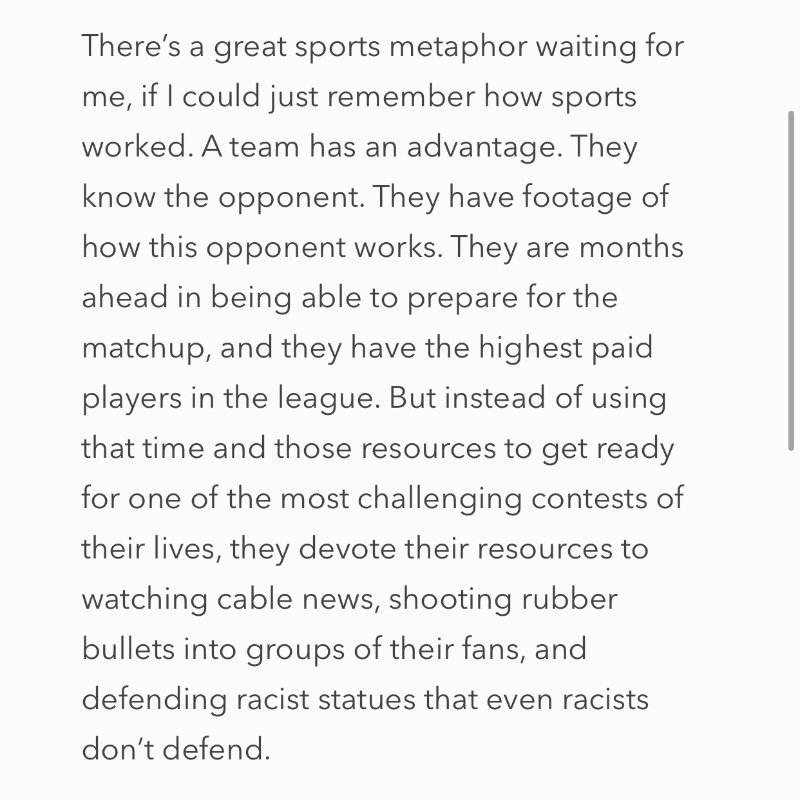 I'm experimenting and put my entire opening remarks from this email on my instagram. If you IG, please check it out there and share it.
I'm experimenting and put my entire opening remarks from this email on my instagram. If you IG, please check it out there and share it.
Africa can become a renewable energy superpower – if climate deniers are kept at bay
Editorial in The Guardian
We must do better. We cannot re-colonize Africa with crappy European coal economics and destruction. This article lays out the stakes and some of the potential for prosperity and innovation in a place long stripped of both.
To 'Demilitarize' Police, First Ban Assault Weapons
Editorial at WGBH in Boston.
Fun fact: I've known the author of this piece, Chip Goines, since we were teenagers in Washington DC taking part in the Washington Association of Black Journalists weekend journalism course. Money quote: "Take away military-style weapons from the public and you take away the police's excuse for possessing an armored-personnel carrier with water cannon."
U.S. coronavirus cases and deaths rising amid ineffective response to pandemic
Article in The Washington Post
What do you call a post-mortem when the patient isn't dead yet? That's what this article is. Read every word. The United States of America is a shambles. The current president is responsible for tens of thousands of deaths. The Republican Party enabling him is responsible too. We cannot forget this. Oooh I'm so mad!
Democrats, Be Bold on National Security
Article in Defense One
I've never linked to this outlet before. I love this argument. It's like "defund the police" but on a national security level. If you want to talk looting, look to the defense industry which drains money from our treasury every year and yet we are left defenseless against the very real threat of the current pandemic. Who benefits from all that spending? Not us.
Can Our Ballots Be Both Secret and Secure?
Epic article in The New Yorker
Thanks Elizabeth for this suggestion. This article is very long and full of math and greed and tales of inertia. Still, I find some hope in it. We have a lot of work to do, and securing our voting system is high on the list.
We Reviewed Police Tactics Seen in Nearly 400 Protest Videos. Here's What We Found.
Investigation by ProPublica
ProPublica always comes with the realness. This piece offers multiple assessments of specific police actions toward protestors. If you're into learning, check it out.
A good short thread on Nick Cannon's anti-semitic rant and why that's bad
Twitter thread
I have been very loudly against anti-blackness. I'm trying to do better about other forms of oppression and discrimination, and anti-Semitism is one of those I could call out more. So please read this short, informative thread about why Nick Cannon's comments were such a problem. I'm glad he's apologized and is trying to do better.
Ava Duvernay posts moment with John Lewis in Obama White House
Video on Instagram
This just made me smile and coincidentally experience an allergic reaction resulting in watering eyes.
Mary Trump, Donald Trump's niece, talks exclusively with Rachel Maddow
Podcast episode
Also here's a Spotify Link. There's not much we don't know about the monster occupying the U.S. White House but still I found this episode riveting. Listen if you have any bile left in you.
The Nib Interview: Ta-Nehisi Coates
Interview in The Nib
Thanks Kristin for sharing this one. It's just real cool!
SIGNING OFF
I've been adding to the Recommentunde YouTube playlist and Spotify podcast playlist just for you.
Forward this email to people you know. They can subscribe at baratunde.com/email

Subscribe to my text messages, and interact with me directly and relatively quickly. Send a message to +1-202-894-8844 or visit here to sign up.
✊🏾

Peace and Love.