Discover more from Recommentunde
Baratunde offers things to help you process reality and give you the boost to keep shaping it for the better
Over 12,000 subscribers
Recommentunde: Our Ticket Out | 11 Aug 2020



it's the latest edition of
The Recommentunde Newsletter
Sent on 11 August 2020 Edition
Hi you.

It's Kamala Harris for Vice President.

I will admit to not having an immediate rejoicing of inner choir singers in my heart and mind when I heard the news. I wasn't surprised, but I wasn't like, "Yeah!" Then I let that go.

There were others who excited me more, and I could rattle off a bunch of reasons for non-enthusiasm around Harris's prosecutorial record or lackluster presidential campaign performance. But that doesn't matter as much right now. We are in a world of hurt, and we face a binary choice between someone who will cause more pain and someone who will help alleviate it. We have two devoted Americans in Joe Biden and Kamala Harris willing to take on that challenge with and for us.

Harris is the first Black woman and first Asian American woman to be a vice presidential running mate on a major party ticket. She has been elected to and served at the local, state, and federal government levels, a fact that makes her far more qualified for the job than the current president. She's managed to survive in a world designed to destroy her, and that is worth honoring.

I did relish an Attorney General Harris being the one to send the current president and his co-conspirators to prison for a long time, but I am certain that whoever runs the Department of Justice will make those calls with the Constitution and the best interests of the U.S. citizenry in mind. It literally cannot get worse than Bill Barr. I also look forward to the Biden cabinet and the incredible amount of competence and non-corruption it will represent. I hope he rolls out his squad soon. Like next week.

This is not a typical election. I don't know if I can stress that enough. This is the fight of our lives. Literally, tens of thousands of people are dead because of this president's willful neglect. Millions are suffering unnecessarily. It doesn't have to be this way. If you're not enthusiastic about this ticket, I respectfully request you remember those suffering most under this current president and do all it takes to make sure Biden-Harris win by an irrefutable and embarrassingly-wide margin.

Then stick around, and stay involved to make sure they do the right things on climate, COVID, policing, and everything else. They are our ticket out of this nightmare.

And now for your regularly-scheduled content: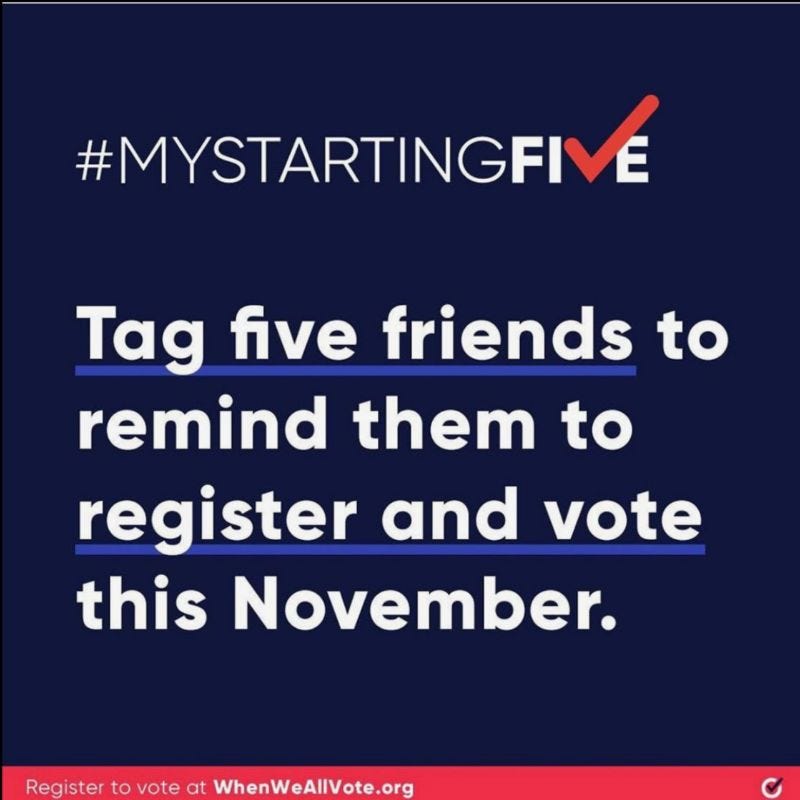 Please vote. Please encourage friends and family to do the same.
"Real politics is constant activism": A conversation with Noam Chomsky
Email newsletter The.Ink
Anand Giridharadas has a new email newsletter, and it's good! I honestly didn't know Noam Chomsky was still alive, but he is and dropping gems.
Why Black American professionals in the U.S. are moving abroad and staying there
Article in Forbes
Yes yes America and voting and fighting but also… options. I'd be lying if I didn't admit to being a bit jealous of the Black people experiencing a different level of freedom over in Europe. Save me a spot y'all! Just in case…
Want more diversity in camping? Start with the gear
Article in the Los Angeles Times
I grew up camping and was Black back then too, so this article strikes a nerve in a good way. More Black campers please!!!
JUDAS AND THE BLACK MESSIAH - Official Trailer
Video on YouTube
I'm glad some of the Black Panther story is about to get major attention via a feature film. Also, I will watch anything with Daniel Kaluuya and Lakeith Stanfield. And OMG I just realized Daniel Kaluuya was in Skins!!! My favorite weird British teen show. I know the rabbit hole I'm falling in now.
'Christianity Will Have Power'
Article in The New York Times
A powerful read that actually sheds light. Key quote: "Evangelicals did not support Mr. Trump in spite of who he is. They supported him because of who he is, and because of who they are. He is their protector, the bully who is on their side, the one who offered safety amid their fears that their country as they know it, and their place in it, is changing, and changing quickly."
Sweatpants Forever: How the Fashion Industry Collapsed
Article in The New York Times
This story is fantastic. It's super really good. You need to and must actually read it all. Do you understand what I'm saying? Stop reading my words and click the link!
A Catalog of Trump's Worst Cruelties, Collusions, Corruptions, and Crimes
Listing in McSweeney's
Thanks to Stacy for sharing this cheerful link. In case you forgot, the current president is a broken and hurt human taking out his brokenness and pain on all of us. Here are 842 pieces of evidence.
Podcast from The Washington Post
Come for the gentrification analysis. Stay for the discussion of the Hulu show, Ramy.
Michigan's Gov Whitmer declares racism to be a public health crisis
Twitter thread
You can read her full statement on the governor's website.
Hamilton Act 1 but it's Muppets
Video on YouTube
It's the songs from Hamilton, sung by muppets. My favorite is You'll Be Back by Cookie Monster. You're welcome. There's also Lin-Manuel Miranda performing the John Adams rap that was cut from the musical
How a $175 COVID-19 Test Led to $2,479 in Charges
Article in ProPublica
Because we live in a broken society, dumb and immoral things like this happen regularly. So let's try to change that, ok? Thanks.
Lost on the frontline: US healthcare workers who died fighting Covid-19
Database at The Guardian
It's become too easy to see COVID deaths as numbers on a chart or graph. Thanks to The Guardian for humanizing some of these losses. Spend a moment to memorialize someone, and if you've lost someone yourself, I'm sorry.
John Lewis' Fight for Voting Rights Goes On
Article in Rolling Stone
Jamil Smith does it again. Great piece. Great closer for this week's email.
SIGNING OFF
I've been adding to the Recommentunde YouTube playlist and Spotify podcast playlist just for you.
Forward this email to people you know. They can subscribe at baratunde.com/email

Subscribe to my text messages, and interact with me directly and relatively quickly. Send a message to +1-202-894-8844 or visit here to sign up.
✊🏾

Peace and Love.