Discover more from Recommentunde
Baratunde offers things to help you process reality and give you the boost to keep shaping it for the better
Over 12,000 subscribers
Recommentunde: Guaranteed Delivery | 17 Aug 2020



it's the latest edition of
The Recommentunde Newsletter
Sent on 17 August 2020 Edition
Hi you.
It's me.
Today would have been my mother's 80th birthday, so Happy Birthday Arnita Lorraine Thurston! I'm glad you were born.
We are about to dive in to the virtual DNC (which you can watch like so), and I'm personally hoping for some very interesting Zoom bombing but also inspirational messages reminding us why voting for fascism is bad because apparently Americans need reminders of that. I'm honored to play a small role as host for an event with JustLeadershipUSA as part of the DNC with a mission to center people affected by the criminal legal system in conversations about changing it. You can tune in for free to Day 2, on Tuesday August 18 at 5pm ET by registering here.
And speaking of registering… the next taping for How to Citizen with Baratunde is this Thursday at 130pm PT!! Our featured guest is Danielle Allen, director of the Edmond J Safra Center for Ethics at Harvard. A few months ago I got so excited about a paper out of Harvard I made an Instagram video about it. The topic was When Can We Go Out, and Danielle runs the center which published it.
She's been trying to save America from itself for months, and we're going to talk COVID-19 and forms of civic collaboration that are working even as our federal government is not. Reserve your spot here not just to watch the recording but to ask questions yourself and get to meet each other and me!
Finally in special announcements, I'm going to offer my own response to the events of this week including the DNC and, as importantly, the trailer drop for my new podcast which will hit this Thursday. So, mark your calendars for 3:30pm PT this Friday. I'll stream everywhere and set up this online event to help you RSVP and remember. This will replace my regular Thursday night Live on Lockdown, and I promise to be as unfiltered as ever.
And now, for your regularly-scheduled content.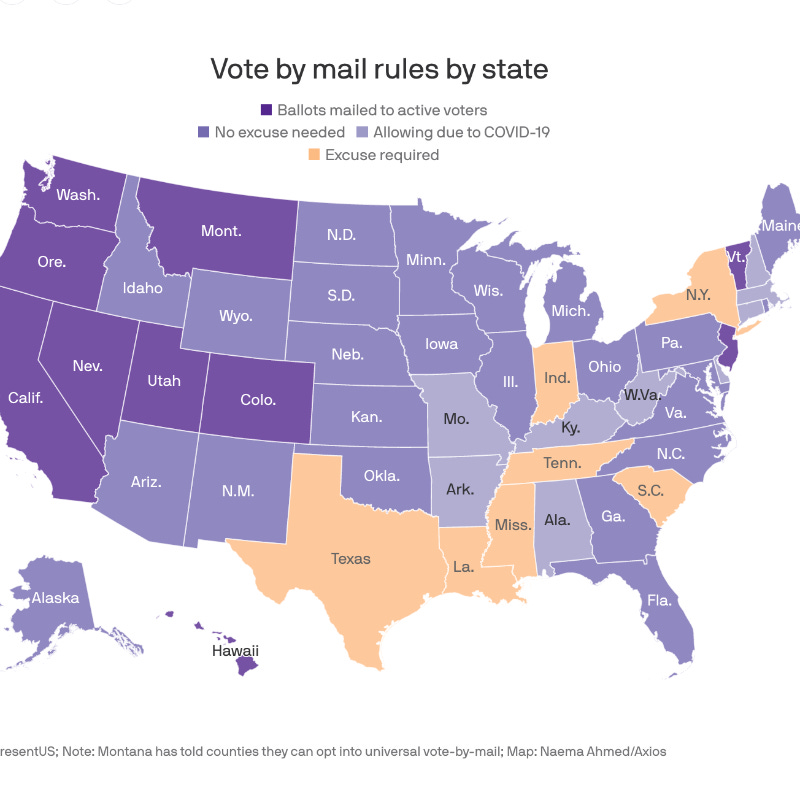 Binge The Full Season of We're Having A Moment
Podcast!
While I'm about to launch a new podcast, you might want to catch up on the one I made this summer called We're Having A Moment. Check it out on my website.
How To Plan Your Vote
NBC and Axios
So listen. This election is not a game, and I need the people of this country to come correct this November because as much as I talk about it, I don't really want to move to the set of the Lord of the Rings (what's good, New Zealand?). Voting this year means having a plan, so check out this state-by-state resource from Axios and this similar resource from NBC News.
Asymptomatic people with coronavirus may hold the key to ending the pandemic
Article in The Washington Post
Sometimes I forget that we didn't have this virus at all before December. It's still early in the life of this virus, and we're still learning. This article made me feel a little better about the knowledge we are gaining.
Video on YouTube
Last week I got to host my friend Jill Filipovic in a book talk with Politics and Prose for her new book about the Boomer generation and how they've really screwed many of us over. The book is a Mueller-esque, searing indictment of offenses. It reminded me that investment in the commons is key to a stable society, and it's not too late to correct our country's selfish ways. Get her book, and watch our conversation.
Results day is a diversity disaster. Here's all the proof you need
Article in Wired UK
Algorithms are set to ruin everything, including exam results in the UK.
Special Section: What's Up With The Post Office
I've been alarmed and confused about the situation with the U.S. Postal Service. Is it true the president is forcing the post office to put an Ivanka stamp on all domestic mail? Can we save the Post Office buy purchasing crop tops from the USPS online store? Will calling our Representatives and Senators help? I don't know all the answers but what I suspect is that this president relishes created doubt and chaos.
By stoking fear among his opponents that he's going to rig the system or fear among his followers that there is massive voter fraud, he accomplishes the authoritarian's goal of undermining faith in our institutions and forcing us just to believe in a personality. That way lies the death of democracy. Here are several links on the theme of the postal service with a bias toward giving you things to do.
So here's a special section on what I've learned.
Vanita Gupta thread on what we can do about USPS
Twitter thread
Vanita Gupta is a trusted source on all things civil rights, and she's assembled some actions we can take that come down to confirming your voter registration and voting plan while putting pressure on Congress to get answers. She doesn't make wild claims about the threats, but instead asks for answers. That feels very responsible to me.
#SaveThePostOffice Saturday Day of Action
Events everywhere this Saturday
Saturday, August 22 is "#SaveThePostOffice Saturday!" At 11 a.m. (local time) at local post offices across the country. This event is organized by MoveOn, the NAACP, Indivisible and more. If you feel safe doing so, I think showing up physically will help maintain pressure to stop any shenanigans from going down, and it's good to show your love for your letter carrier! They work hard for us, and our postal system is still the envy of the world.
Stop Panicking about the Post Office; But Do Fund Them ASAP
Article by dude on Medium
This is a bit of a counter-narrative by someone who's done a fair amount of research. I think his call for calm is overstated, but I appreciate the perspective. I still encourage us to make a lot of noise to prevent massive voter suppression, but here's something to help you think through the whole picture.
Stacey Abrams thread on all this
Twitter thread
I probably trust Stacey Abrams more than any other American on the matter of voting, so just do everything she says. In the worst case, we all have a robust plan to vote and accomplish our task early which leaves time for us to plan the 45th president's going away party.
Wyatt Cenac's "Yellowbellies," the outer space puppet show
Video on Instagram
And let's close with a treat. This is an eight-minute proof of concept video Wyatt shared on his Instagram. Hurry up and watch before some lawyer forces him to take it down.
SIGNING OFF
I've been adding to the Recommentunde YouTube playlist and Spotify podcast playlist just for you.
Forward this email to people you know. They can subscribe at baratunde.com/email

Subscribe to my text messages, and interact with me directly and relatively quickly. Send a message to +1-202-894-8844 or visit here to sign up.
✊🏾

Peace and Love.