Discover more from Recommentunde
Baratunde offers things to help you process reality and give you the boost to keep shaping it for the better
Over 12,000 subscribers
Recommentunde: Hold On | 10 Sep 2020



it's the latest edition of
The Recommentunde Newsletter
Sent on 10 September 2020 Edition
Hi you, It's me.

Tomorrow I turn 43 years old, and this is one of those newsletters where I'm just typing and am not sure where the words will lead me.

I woke up this morning with a fire in my soul, more specifically my lungs, because California is on fire and there's ash coating the car, and the sky is red, and the air smells like really jacked up barbecue because we haven't taken the climate crisis seriously and even in "liberal" California our elected leaders have known how to manage fires effectively, but have chosen, against the proven science, to not do so. Maybe we should have learned from the indigenous people about fire management rather than slaughter them all.

I woke up this morning with news of yet another "gotcha" moment that will "totally destroy" this presidency because "this time" there's audio tape of him admitting he knew how deadly the virus was way back in February even though publicly he downplayed the risks. And I felt almost nothing. More tape doesn't matter. His entire life is evidence of his unfitness. We have so much tape we don't know what to do with it, so I don't want to spend more of my energy hoping the willfully blind people choose now as the time to see.

I woke up this morning still a little sore from my recent experience with virtual reality -- I know, hard segue from the authoritarian president but that's America now. I did some VR boxing, and I really got a serious workout, and those headsets are amazing and definitely possibly doing weird things to our brains. I'm still reflecting on this past Saturday when I was hologrammed and teleported into VR Burning Man to deliver a talk on race? Did that really happen??

It is completely normal to question reality under the conditions we're in right now. We are not built for this level of bullshit. No, you're not crazy. The world is. No, you're not dreaming. These nightmares are real. Hold on just a little while longer. I can't promise everything is gonna be alright -- everything is all wrong right now -- but we can make it better. Hold on.

And now, for your regularly-scheduled content.
Oh, make sure you get to the end. Some friends are subletting the best apartment in all of Brooklyn, and I'm helping them get the word out because their home is literally my happiest place in all of NYC.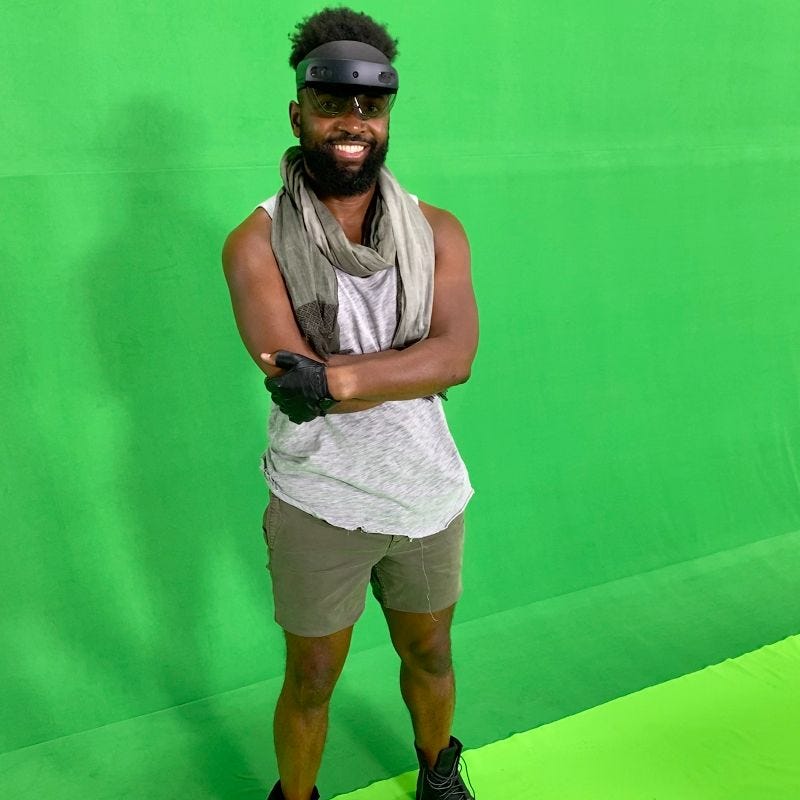 I really did get beamed into VR Burning Man. Check this post for more details.
'The Princess Bride' Cast to Reunite for Virtual Table Read
Rolling Stone article
Mark the date. September 13th. It's a fundraiser, and you're going to spend money to go because you need this in your life right now.
The Golden Gate Bridge looks like its on Mars
Twitter video from local ABC reporter
It's 23 seconds and terrifying and represents the future for many people in the world. Carbon is one helluva drug.
YouTube video
You didn't know you needed to watch a moment from the Lincoln Nebraska City Council, but you were wrong. You do need to watch it.
Survival of the Richest | by Douglas Rushkoff
OneZero article in Medium
Rushkoff's analysis of what's wrong with tech and extreme capitalism come together perfectly in this piece about rich, mostly men, trying to game out the end times.
When your Aunties find out you're travelling
YouTube video from Famalam BBC Three show
Famalam is a Black British sketch show. Thanks to Osekere for leading me to it. This sketch is great, and now I'm watching all of them I can find.
Gender-Reveal Party Is Blamed in California Wildfire
New York Times article
This is the dumbest ritual I've ever heard of. I did not know this was a thing, and I was glad to not know, and now that I know, I just. How have we made it this far as a species? Shouldn't we have annihilated ourselves by now?
Youtube video
Dune was one of the formative fiction series of my childhood (along with The Dark Tower, and Foundation). I've been waiting most of my life for a film to do the story justice. I hope this is it. Also Earth is going to look like this if we keep going with the gender reveal pyro parties and binging on fossil fuels.
Now Is the Time to Bring Back Away Messages | by Angela Lashbrook
OneZero article in Medium
I'm sharing this piece for my friend Athalie, and all of you get to benefit. I've been ranting about the inability to be "away" from social media since my digital detox article seven years ago. The situation today is even worse.
Anita Hill vows to vote for Joe Biden and work with him on gender issues
CNN article
Good for Anita Hill. What stands out to me is how her experience of abuse at the hands of government officials turned her off of government entirely until now. Also, send this to your wokier-than-thou friend who won't vote for Biden because of how he treated Anita Hill and tell them they can't use her as a crutch for their selfishness.
A White father and Black son protest together in Arlington, Va.
Washington Post article
This is a beautiful and lengthy story. Roughly 20 minutes to read but warmed my heart and gave me smiles.

Finally...

I'm enjoying this podcast How To Save A Planet. I've known co-host Dr. Ayana Elizabeth Johnson for years, and they are doing a great job focusing on ways out of the climate crisis. In particular, I'm feeling this episode on The Green Wave in which they show how Europe is implementing the Green New Deal we are supposed to be doing in the the U.S.A.
SPECIAL ANNOUNCEMENT FOR A FRIEND

Note: I lived in this house/apartment several times during my life in New York. I threw amazing parties, wrote inspired things by the multiple fireplaces, and felt at peace in a city which often denies that. I'm not being paid to list this. I just love the space so much, and the owners are good people. If you need a place to live in New York, this is literally the best one I ever experienced. Ever.

Cozy Brooklyn Carriage House on Pacific between Vanderbilt and Underhill available Mid October or November 1st. This gem is a quiet, two story, freestanding house with a charming courtyard and a dedicated parking spot. The first floor features 10' ceilings, an open kitchen/living room with buttery terracotta tile, a bowling alley bar and a working fireplace. The second floor is a loft style 1.5 BR (.5 would be ideal for a young child or separate office space). Exposed brick and antique charm throughout. See this listing for photos and more information.

Anyone willing to rent through the end of May can get the "Baratunde Rate" of 4K/month. Feel free to reach out via airbnb or contact the owner directly at prospectheightscarriagehouse@gmail.com
SIGNING OFF
I've been adding to the Recommentunde YouTube playlist and Spotify podcast playlist just for you.
Forward this email to people you know. They can subscribe at baratunde.com/email

Subscribe to my text messages, and interact with me directly and relatively quickly. Send a message to +1-202-894-8844 or visit here to sign up.
✊🏾

Peace and Love.