Discover more from Recommentunde
Baratunde offers things to help you process reality and give you the boost to keep shaping it for the better
Over 12,000 subscribers
Recommentunde: 200,000 | 22 Sep 2020



it's the latest edition of
The Recommentunde Newsletter
Sent on 22 September 2020 Edition
Hi you,
It's me.
Are we there yet? We've got 42 days until Election Day, but it's more of a sliding window of election weeks (The Election Slide??), and the voting has already started. Let's remember to breathe. Right now. Take a deep breath.
Good job.
We lost RBG and got an even worse version of Mitch McConnell in exchange. That's a terrible trade, and I'd like a do-over, please. Here's something I shared that Jenna Arnold wrote about RBG's passing.

And now for a brief public service announcement: we must bury the Republican Party in the United States. I don't know how many offenses, insults, or abuses they expect us to take, but the answer is too many. This rush to jam up the Supreme Court after already having stolen a seat from Obama after having declared that they would never do the exact thing they are doing... it's just too much. They no longer pretend to care about actual patriotism or rule of law. We must defeat them everywhere.

They have aligned themselves with the form of power they think will reward them. We must demonstrate that we possess a form of power that will punish them. We must remind them of the risk on the other side of their reward gamble. Fund their opponents; complete your Census; and vote, vote. vote. They are literally trying to install a Handmaids Tale extremist on the Court. We must take the White House and the Senate and hold the House. We must do this in numbers large enough to squash any doubt. We simply must.

Two hundred thousand Americans are dead from COVID and Republicans in the Senate have done almost nothing about it since Spring. They won't offer more financial support to people or businesses. They won't offer support to renters who are hardest hit. But they will find the time to install a "pro-life" justice on the Supreme Court. 200,000 people are dead. How many have to die before you don't get to call yourself "pro-life" anymore?

Enough.
In related news, the most recent episode of How To Citizen is up! It's all about how we fight COVID. I spoke with two women who have tapped into their relationships and resolve to make sure we don't leave people behind. One is an ER doctor in San Diego. The other runs an ethics center at Harvard. Listen to the episode, and enjoy this week's assignment which I promise will make you feel better.
Finally, we have several tapings this week you can attend in Zoom.
And now, for your regularly-scheduled content.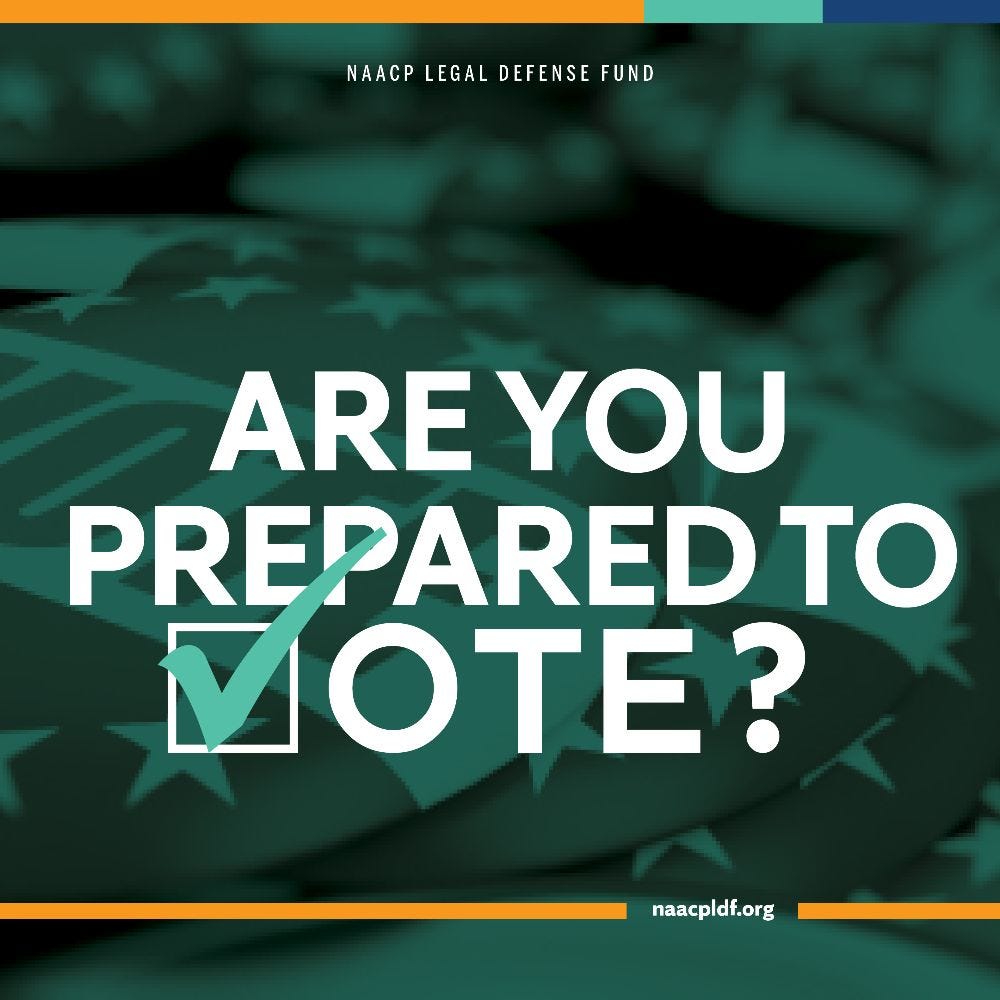 If you are legally eligible, do you have a voting plan? If not, make one. Thanks to NAACP Legal Defense Fund for the image.
Donate To Restore Voting Rights in Florida
Fundraiser I'd like you to support and share
This is simple. Florida's pay-to-vote system stops formerly convicted individuals with fines & fees from voting. Donate to Florida Rights Restoration Coalition now so that they can register by October 5th. Your dollars will help people vote who shouldn't need your dollars to be able to vote.
"I want you to use my words against me."
Mashup of Republican lies
If these men are willing to so flagrantly lie about how they will handle Supreme Court nominees, why would you believe anything they said about healthcare, national security, or anything else.
Rhode Island Senator Sheldon Whitehouse on Why GOP A Selling Out The Courts
Video Clip from Rachel Maddow
This may be the smartest thing I've ever heard on MSNBC. Many of us are vein-poppingly pissed at the high hypocrisy of GOP senators reversing themselves about SCOTUS appointments in an election year. Sen Whitehouse cuts through all that noise and asks us to focus on the donors who benefit from a captured court.
Video on Twitter
This is a two-minute film about Ivanka, or as I call her, The Daughter-Wife. She's as corrupt as any member of the Trump family, and that's saying a lot. While you listen to this, please confirm your voter registration.
Pretty Good Reason To Vote Joe
Short Instagram Video
Well played, Biden. Well played.
Mueller Deputy Andrew Weissmann on Why the Probe Failed
Article in The Atlantic
We put too much faith in Mueller, and he put too much faith in the system, and for that, the system pays the price, which means we pay the price. Let's stop with the deference and the idea that one man will save us. We have to save us.
Image on Instagram
Accompanied by a helpful video. This comes from SwingLeft, and it's informative and actionable. My favorite kind of social media thing.
As U.S. COVID-19 deaths near 200,000, a nation grapples with grief
Article in Reuters
For all who have lost someone, I'm sorry. These numbers are all people and loved ones and connections, and we haven't done the proper job of honoring that.
When the world's in crisis, we need 'grief leaders.' Here's how to be one.
Article in The Washington Post
A good piece of journalism that makes a case and offers resources. We are all grieving things big and small right now, and we can be better about making space for that regardless of how much influence we think we have.
A few more pieces that hit me hard
SIGNING OFF
I've been adding to the Recommentunde YouTube playlist and Spotify podcast playlist just for you.
Forward this email to people you know. They can subscribe at baratunde.com/email

Subscribe to my text messages, and interact with me directly and relatively quickly. Send a message to +1-202-894-8844 or visit here to sign up.
✊🏾

Peace and Love.