Discover more from Recommentunde
Baratunde offers things to help you process reality and give you the boost to keep shaping it for the better
Over 12,000 subscribers
Recommentunde I Free Speech | 4 Jan 2021
View this email in your browser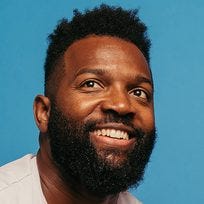 Recommentunde - 4 Feb 2021
Free Speech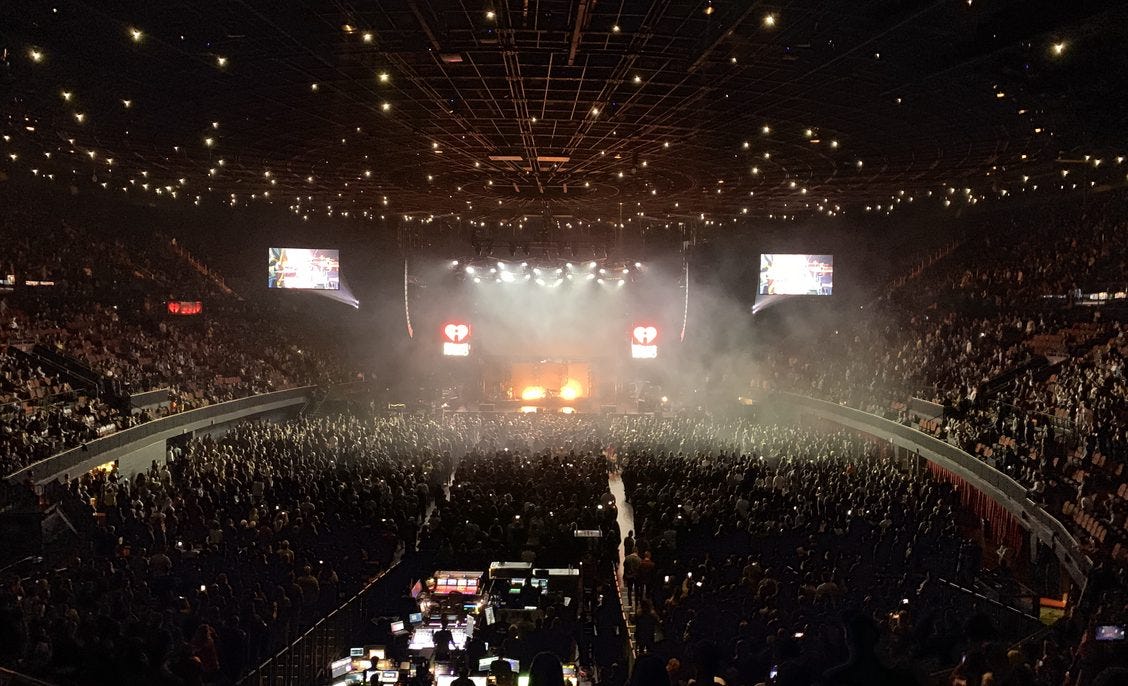 Correction: I'm repeating last week's photo as an act of email newsletter journalistic integrity. In last week's newsletter, I lied twice in the opening sentence. The caption for the concert photo read, "One year ago I was at a massive concert at the Staples Center. I miss people!" First, the venue was the LA Forum. Second, the photo was from two years ago, not one. Apologies for the misinformation. Hopefully I did not do too much damage to our already-precarious democracy.
A BRIEF STATEMENT
Hi you.
It's me.
I'm feeling a lightness to my step I'm unaccustomed to. I'm pretty sure it's the incremental boost in freedom made possible by the removal of Donald Trump from my brain. I've gone hours, even an entire day, without thinking about him.
When I turn on a screen, be it programmed by algorithms or news executives, he no longer lurks behind every pixel. This is good. Since the tech platforms unplugged the microphone of this seditious menace, the spread of online misinformation has plummeted. He is still free to speak his mind. He just no longer has access to the amplification engine of private enterprise to aid him.
Unfortunately the liberation I feel is not equally distributed within the Republican Party which continues to hold itself hostage to lies, a cult of personality, and anti-democratic ways. Although Trump no longer holds office he still holds power. He granted permission for violence, racism, and lying as a path to political power, and that belief system has metastasized in the body politic of the GOP.
The latest news of Rep. Marjorie Taylor Green stands as a positive test result indicating the reach of this dangerous infection. She literally hides her face behind a "Free Speech" mask, unwilling to acknowledge that she is still free to speak her lies but has no inherent right to, for example, a Congressional committee membership.
I hope you enjoy your newfound, if modest, increase in freedom without Trump occupying as much of your attention. Let us hope Republicans choose to enjoy this freedom as well.
WHAT'S UP WITH ME
Online Right Now
A Conversation with Daniel Kaluuya, Chairman Fred Hampton Jr., and me! (scroll down for video)
I got to sit down virtually with Daniel Kaluuya and Chairman Fred Hampton Jr. (son of Illinois Black Panther Party Chairman Fred Hampton) to discuss the film Judas and the Black Messiah and a few more things. My zoom app keeps telling me to bring W'Kabi back. If the link above doesn't take you to a page with videos, here's a somewhat unauthorized direct link to my conversation.
Online Right Now
Watch Blank Canvas SAP Original Series hosted by me!
I am hosting a TV series of sorts! Blank Canvas is a 3-part series inspired by SAP Insights research on 'The Passionates' – a growing group of consumers who actively support companies that reflect their personal values on environmental and social issues. I'm really proud of this, and we found a way to shoot safely during COVID. Watch the pilot episodes which cover the worlds of fashion, sports, and food.
Recent press or other public appearances of note
LINKS I'VE CLICKED FOR YOU

Shaka King's Fight to Make 'Judas and the Black Messiah' - The Atlantic
A revealing interview with the director of one of the year's best films. I'll share the review I wrote for Variety in next week's email BTW.

Banning White Supremacy Isn't Censorship, It's Accountability | WIRED
Thanks Elizabeth for sharing. This is a thoughtful, nuanced, and well-argued piece about how we balance rights with power in a context defined by historic and present-day white supremacy. Read till the end (like you always do right!??).

The story behind 'Blue Check Homes': How an SF artist created a fake company that fooled thousands | SF Gate
This put a big smile on my face and reminds me of the good old Comedy Hack Day events we ran through Cultivated Wit. Go art! Go satire! Go justice!

Opinion | Why Are Republican Presidents So Bad for the Economy? - The New York Times
Facts. This article is filled with them. Now someone needs to convert this into an orchard of memes to feed the rest of the country all the time.
Loneliness Is What Drives Some People to the Right Wing - Bloomberg
A short read that connects individual loneliness with a sense of collective abandonment by politics and the economy. Inspiring level of insight.

Video Time!
Fake Famous, the true story of a social experiment that reveals what's really happening behind-the-scenes of influencer fame. My friend Nick Bilton directed this, and I get a few moments in to talk trash about tech and society. Win-win!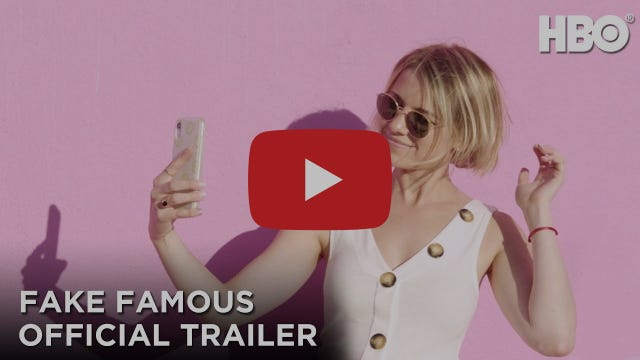 Copyright (C) *|CURRENT_YEAR|* *|LIST:COMPANY|*. All rights reserved.
*|IFNOT:ARCHIVE_PAGE|**|LIST:DESCRIPTION|**|END:IF|*
*|IFNOT:ARCHIVE_PAGE|**|HTML:LIST_ADDRESS_HTML|**|END:IF|*
Update Preferences | Unsubscribe
*|IF:REWARDS|* *|HTML:REWARDS|* *|END:IF|*