Discover more from Recommentunde
Baratunde offers things to help you process reality and give you the boost to keep shaping it for the better
Over 12,000 subscribers
Recommentunde - Good News 📰 - Week of 27 Oct 2019



it's the latest edition of
The Recommentunde Newsletter
For the week that began October 27 2019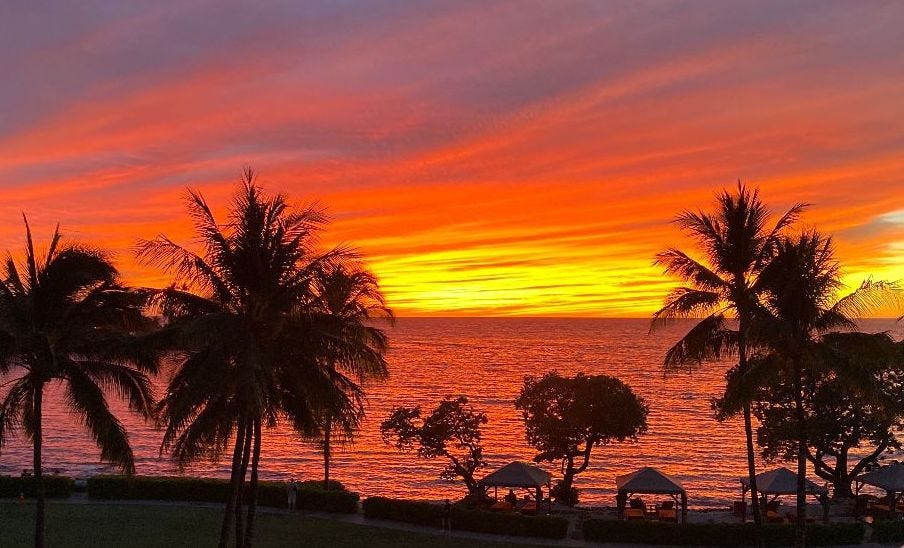 This week's photo is from the Big Island of Hawaii. Don't @ me!
Good day all,
This week's theme is good news. We don't get enough of it, so I'm going to do my little part. This exercise was inspired by a workshop I ran with Raina Kumra last week. It was about good news and how "today's shitshow is fertilizer for a better tomorrow." At the end of this newsletter, I'll ask you to share some good news.
Last week, I shared an article about the first episode of HBO's Watchmen because it portrays a deleted portion of U.S. history. I'm adding a thread which deepens the historical analysis and reveals how, in the words of the author, "white terrorists overthrew the US government."
I know I said good news, but I think knowledge of history is good! Let's continue.
This CEO keeps it real about humans and our planet. Patagonia founder Yvon Chouinard: How to save Planet Earth | Fast Company
It's always good when the citizenry boo an authoritarian slob of a president. Lock him up! Lock him up! A Twitter thread. Meanwhile, a high school in Louisiana voted to remove the president from office! Your turn, US Congress! 'Centrism Is Canceled': High Schoolers Debate the Impeachment Inquiry | The New York Times
PUBLIC SERVICE ANNOUNCEMENT: If you travel to Los Angeles, starting today, LAX bans Uber, Lyft and taxi pickups at the curb | LA Times. Here's how it works.
A well-made case on why Mark Zuckerberg needs to shut down Facebook's political ads | Quartz. And the Canadians break this Facebook issue down thoroughly in Money, misinformation and Facebook's plans for the future | CBC Front Burner. (The podcast version is on Spotify or Apple and of course myRecommentunde playlist).
We rarely get good news about the First Americans so… Eureka returns an island to a tribe nearly 160 years after a massacre | Los Angeles Times

Good news: the notorious NYC jail complex known as Rikers Island is closing | Gothamist!! There's a long road ahead, but this is progress as the movement to close it just picked up steam a few years ago. As Mara Gay at the NYT writes about this moment, "my understanding of the city I love was incomplete" until she visited. I said pretty much the same thing two years ago in my two-part feature on Medium.
In fact, we are making great progress on criminal justice reform thanks to efforts from the right and left, with more on the way: in The Battle Against Building New Jails | On the Media. (The podcast version is on Spotify or Apple Podcasts and of course myRecommentunde playlist).
Major kudos to my hometown paper, The Washington Post, for centering the voices of incarcerated people in this epic magazine issue. Prison: An issue written, illustrated and photographed by currently and formerly incarcerated Americans | Washington Post.
Sesame Street is still trying to deliver those sunny days: How Sesame Street's Elmo helps kids affected by the opioid crisis | Fast Company

And finally, for something good and weird: Janelle Shane: The danger of AI is weirder than you think | TED Talk.

Now, your turn. Take my little survey, and share your own good news.
How much do wish you encountered more good news?
0 = Not at all. I get plenty of good news. 5 = Desperately. I will implode from bad news depression.
I'm good.
Help!!!
I'm good.
Help!!!
Powered by Typeform

✊🏾

Peace and Love.